CMA CGM Absorbs Shortsea Unit Containerships Into its Own Brand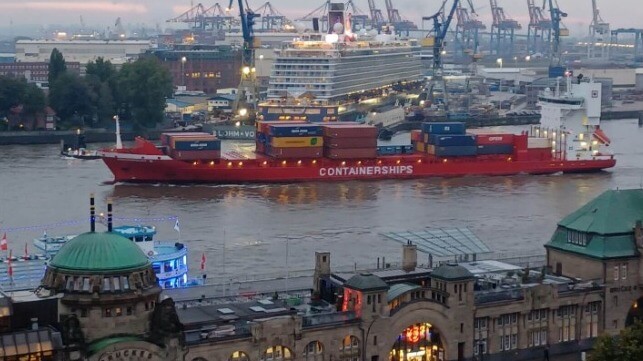 Number-three ocean carrier CMA CGM has retired the Containerships name, ending a nearly 60-year run for the Finnish brand of intra-European shortsea container freight.
"By incorporating this unified model into CMA CGM offerings, the Group gains access to the extensive sea, road, rail and river solutions offered by Containerships," said CMA CGM in a statement. "The experience of our customers and business partners will be enhanced thanks to better digital tools, a wider range of CMA CGM services and a broader intra-European presence."
CMA CGM acquired Containerships in 2018, adding the firm's network in the Baltic markets, Russia, Northern Europe, North Africa and Turkey to its existing routes. CMA CGM had also recently acquired the venerable Scottish line MacAndrews, another European shortsea brand, and it viewed Containerships as a complementary acquisition.
CMA CGM folded the two companies together under the Containerships brand in 2019, bringing together 26 maritime service routes and eight inland routes - and bringing an end to the 250-year-old MacAndrews brand.
The absorption of Containerships is part of a long-running trend of industry consolidation, but it comes at the price of historical continuity. Containerships was founded in 1966, 12 years before CMA CGM. At the time, the concept of containerized freight (in its modern form) was only 10 years old, and it was still new in many parts of the world. The former MacAndrews brand was founded in 1770, decades before the first commercially successful steamship.
CMA CGM has been absorbing its subsidiary brand names for a long time. In 2016, after acquiring APL parent company NOL, it consolidated its ANL and US Lines brands, ended the NOL brand and brought all transpacific commercial cargo under the CMA CGM brand. APL was retained as a separate name for its U.S. government / U.S. flag shipping contracts.
Competitor Maersk is also bringing its smaller lines in under one umbrella. In January, Maersk announced that its Sealand division - which launched the industry as the world's first container company - will transition into the Maersk fold and cease using its historic name. The same process is under way for the storied brand of Hamburg Sud, another Maersk subsidiary which will soon take on the Maersk name.