Claims Dismissed Against Deepwater Horizon Clean-Up Companies
A U.S. federal judge issued a decision late on Tuesday that effectively dismissed over 20,000 claims against private clean-up companies that responded to the Deepwater Horizon oil spill.
The order was issued by United States District Judge Carl J. Barbier for the U.S. District Court, Eastern District of Louisiana.
On April 20, 2010, a loss of well control followed by fires and explosions occurred on the Deepwater Horizon rig, which had been engaged in drilling activities in Mississippi Canyon Block 252 – the location known as Macondo– on the Outer Continental Shelf off the coast of Louisiana. The Deepwater Horizon sank two days later. Oil began to discharge into the Gulf of Mexico, and the flow of oil continued for three months until the well was capped on July 15, 2010 and subsequently sealed with the completion of a relief well on September 19, 2010.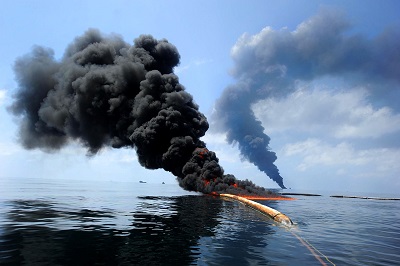 Clean-up activities and efforts to minimize the impact of the spill continued for months and included a variety of federal and state government entities and officials, BP Exploration & Production and its affiliates and a variety of other entities and individuals that were engaged to respond to the oil spill.
Response activities included skimming oil from the surface of the water, conducting controlled in situ burning of oil, placing containment and sorbent boom, onshore and beach clean-up, decontaminating vessels that engaged in various response efforts and the application of dispersants.
The complaint alleged that plaintiffs engaged in a variety of clean-up activities and were exposed to oil, dispersants and other chemicals while doing so as a result of various actions or omissions of, among others, the clean-up responder defendants. Further, it alleges that the defendants "failed to use reasonably safe dispersant chemicals or other chemicals in their attempts to respond to the oil spill, and thereby exacerbated the pollution of the Gulf of Mexico and injury to plaintiffs," "ignored worker safety concerns," and failed to supply workers with appropriate equipment such as respirators.
Various clean-up responder defendants and the manufacturer of the dispersants used in the Deepwater Horizon response, Nalco, moved to dismiss the claims asserted against them.
A legal team led by Mike Lyle from Quinn Emanuel and Seacor Holdings' chief legal officer Paul Robinson devised and implemented an approach known as Lone Pine to secure the dismissal. Recognizing that private clean-up responders should share in the federal government's immunity as long as their actions were consistent with the government's instructions, Quinn Emanuel and Seacor brought the issue of threshold derivative immunity to the forefront and aggressively pushed them as a means to obtain early adjudication.
The team eventually obtained a Lone Pine order that required plaintiffs to come forward with specific information or evidence in order to overcome the immunity defense – that is, to provide proof that the clean-up responder defendant's conduct violated or exceeded an instruction or order issued by the federal government during the response effort and thus caused their injuries or damages.
The approach proved a success when the results of this protocol were relied upon by the Court in granting the clean-up responders' summary judgment motions on immunity grounds, avoiding lengthy and costly discovery on the individual exposure claims.
The landmark decision is significant for another reason. Judge Barbier has found that private parties with no contractual relationship to the federal government can and will share in the federal government's immunity in connection with their response actions where such actions were undertaken consistent with the government's instructions.
Here, the companies carried out various oil spill response activities under the direction and control of the U.S. Coast Guard, and because they adhered to and acted within the scope of the government's authorizations and orders, they were found to be immune under the Clean Water Act as well as the Federal Tort Claims Act for their actions in responding to the spill.
Judge Barbier's ruling relies on the Supreme Court decision Yearsley v. W.A. Ross Constr., 309 U.S. 18 (1940) and follows a 2012 Supreme Court decision recognizing that private parties who work alongside government employees in many contexts may think twice about doing so if they are not afforded the same protection. Filarsky v. Delia, 132 S. Ct. 1657 (2012).
This ruling preserves the significant federal interest in responding to environmental crises like offshore oil spills and should encourage private responders with expertise in this field to accept such projects without fear of liability, said Lyle.
"We are delighted with Judge Barbier's decision granting summary judgment and dismissing over 20,000 claims against our clients and other private responders who were tasked to clean up the Deepwater Horizon oil spill, a spill which President Obama called the worst environmental disaster America has ever faced," he said.
"The standard play here would have been to take discovery on the individual claims and perhaps let bellwether trials play out. But Quinn Emanuel and Paul Robinson, Chief Legal Officer of parent company Seacor Holdings Inc., recognized that these private responders should share in the federal government's immunity as long as their actions were consistent with the government's instructions. Quinn Emanuel thus went on the offensive by bringing these threshold derivative immunity issues to the forefront and aggressively pushing them as a means to obtain early adjudication."