CHIRP Releases New Book, Video on Perception and Fatigue
The Charitable Trust CHIRP has released a booklet and accompanying video on "Perception, Decision Making and Fatigue at Sea."
This work is a summary of findings and recommendations in collaboration with the Arts & Sciences and Neuroscience Departments at University College London.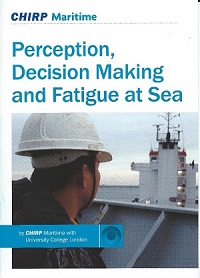 The book includes recommendations important for seafarers, managers and maritime regulators. It illustrates how the eyes work with the brain. Giving attention to "what and where": The "what" delivers information on detail and color. Whilst the "where" system works better in dim light using peripheral vision and is better adapted to transient event moments, such as moving objects. However, "what and where" use different parts of the brain – so they can't both be at peak performance at the same time.
The study considers the human element in ship design and when writing operating procedures. It says that the industry needs to make allowance for the influence on seafarers' vision due to different lighting and dark adaptation.
The project was funded by Lloyd's Register Foundation.

The report and accompanying video can be downloaded from www.chirpmaritime.org
The CHIRP Charitable Trust has been named "The Best Safety Service of the Year" at the 2017 Safety at Sea Awards, held during London International Shipping Week. CHIRP provides a free and confidential reporting program for near miss and hazardous occurrences, sharing safety lessons learnt with 200,000 seafarers every year.