An trade hotspot map by the Environmental Investigation Agency (EIA), and environmental organization TRAFFIC reinforces the position of China and Indonesia as the world's most important countries involved in the illegal trade in Helmeted Hornbill parts and products.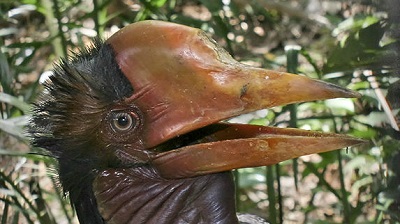 The Helmeted Hornbill is a large rainforest bird found in Southeast Asia which, unique among the hornbills, has a solid bill casque, a helmet-like structure on the bill that is made of solid keratin that is highly prized as an ivory alternative to be carved into luxury decorations and jewelry.
This has driven trade to critical levels, such that the Helmeted Hornbill was uplisted in 2015 by the International Union for Conservation of Nature (IUCN) from Near Threatened to Critically Endangered in the space of three years.
Analysis shows at least 2,878 Helmeted Hornbill casques, skulls and products were seized from around 60 confiscations from 2010 to 2017.
There are high poaching levels in Indonesian Borneo, and Shenzhen and Hong Kong stand out as the most important ports connecting hornbill part shipments from Indonesia to mainland China. Vigilance at these bottleneck exit and entry points is crucial to intercept illegal shipments, says the EIA.
High numbers of seizures were also recorded in Fujian province, in particular Putian and Xianyou, where there is a traditional hornbill casque carving industry.
"We call on the Government of China to conduct targeted intelligence-led investigations of carving operations within renowned areas historically associated with the ivory and rosewood carving industry," said Matthew Lowton, EIA's Wildlife Campaigner.
Profits from the illegal wildlife trade sometimes go into the pockets of international criminal networks, threatening peace and security, and damaging the livelihoods of local communities who depend on tourism.
Stopping this trade is also crucial to achieve the UN Sustainable Development Goals (SDGs), as it threatens countries' biodiversity and people's livelihoods, and disturbs peace. SDG 15 in particular calls for the protection of wild fauna and flora as well as the ecosystems that they depend on - including targets on combatting and addressing the supply and demand of illegal wildlife products.
The map is available here.