Chinese Poaching Damages South Korean Fisheries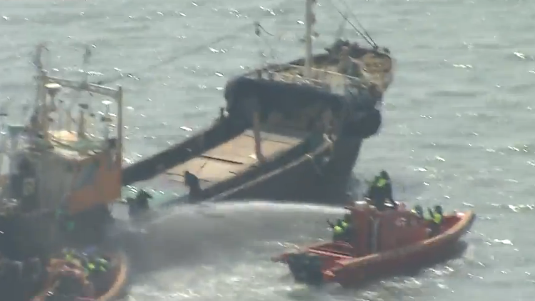 The Korea Maritime Institute (KMI) has issued a new report on fisheries productivity in South Korean waters, and the latest numbers are not encouraging: the nation's offshore catch came to just 923,000 tonnes in 2016, the lowest annual level since 1972.
Korea's fisheries productivity peaked in the mid-1980s at 1.7 million tonnes per year and has steadily declined since, even though fishing vessels have grown larger and more sophisticated. Warming seas and changes in habitat are part of the cause, says KMI, but the report laid the majority of the blame on Chinese illegal fishing – a long-running source of conflict in the Yellow Sea. Specifically, the report suggested that the Chinese vessels take between 100,000 and 650,000 tonnes per year of illegal catch, including the indiscriminate harvest of young fish, which cuts into the fishery's ability to regrow.
Domestic catch limits
To respond to declining productivity, the Korean government has proposed a plan to reduce domestic catch limits for "depleted species." However, Korean fishermen are concerned that this policy could reduce their income and raise fish prices without adequately addressing the problem. If Chinese vessels continue to fish illegally, they say, catch limits will not make a difference.
"In the end, the policy will increase the burden on fishermen," said Choi Kyu-Choi, chairman of the Fisheries Development Council of Taean, speaking to CCToday. "We need to immediately take measures to eradicate illegal fishing and restore catches through artificial insemination."
Efforts to cut back on illegal fishing
In December, China and South Korea reached a landmark deal to reduce conflict over the Yellow Sea fisheries: They agreed to reduce fishing quotas in jointly administered waters, to step up Chinese participation in enforcement patrols and to penalize fishing vessels carrying weapons or anti-boarding equipment.
Before the agreement, Chinese fishing vessels rarely suffered any penalties for crossing into Korean waters once they returned to port. In the absence of enforcement support from Beijing, the Korea Coast Guard has fought back with boardings, arrests, vessel confiscation and, following a series of violent incidents, the use of crew-served weapons and firearms. The Korea Coast Guard alleges that Chinese fishing crews often fight boarding teams using improvised weapons; further, the agency says that some fishermen have militarized their vessels by adding iron spikes to the rails.
There have been casualties on both sides: over the past eight years, at least two Korean law enforcement officers have been killed by Chinese fishermen, and more than 70 have been injured.