China's Live Export Conundrum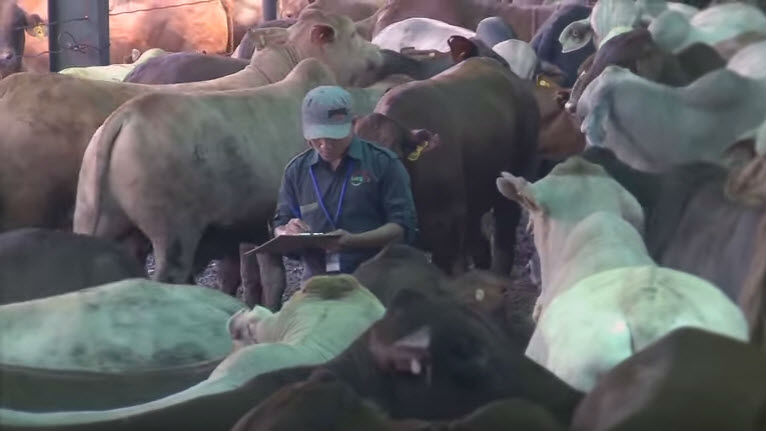 A newly released report states that the live cattle trade between Australia and China may be a better future alternative than boxed beef (packaged cuts of meat). However, current veterinary practices cast doubt on acceptace of the trade in China.
The report, a joint effort between the Australia-China Relations Institute and the School of Agriculture and Food Science at the University of Queensland, indicates that opportunities for largescale exports of live cattle, especially slaughter cattle, could bring the trade a comparative cost advantage with lower cost pasture in Australia and lower cost labor in China.
China is the third biggest formal importer of beef in the world, and would be the biggest if informal imports were included, and Australia is the second biggest formal exporter, but perhaps third biggest if informal exports are included, the report states.
The prospects for increased trade are based on long-term fundamental drivers, especially sustained economic growth and urbanization in China which has had two effects. First, Chinese diets have diversified and increased demand for beef in both urban areas and rural areas, with the largest increases in out-of-home consumption. Second, broad-based economic growth has meant that millions of Chinese farmers throughout the country have exited cow-calf production to take up more lucrative off-farm work.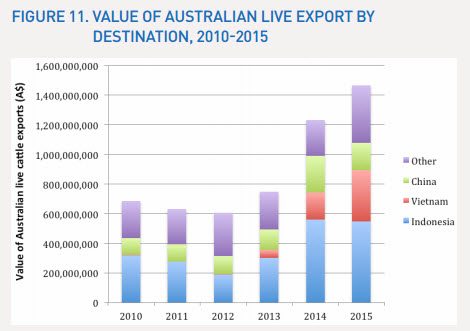 Beef exports to China increased 13-fold between 2011-12 and 2013-14 to become Australia's fourth largest export market, with projections that the trade could be worth a cumulative total of A$100 billion between 2014 and 2030.
Additional stimulus for trade has been generated by the signing of the China-Australia Free Trade Agreement and a live cattle export protocol, with projections that it could lead to exports of one million head per year.
"The Chinese market is still largely a generic, price sensitive beef market, and it's very difficult to compete with countries like Brazil on price," said one of the report authors, Dr Scott Waldron from University of Queensland in Australia. "So if we want to get a bigger slice of market share in China, one way Australia could potentially be price competitive is through the large scale exports of live cattle."
Consumer Health Concerns
However, veterinarian Dr Lynn Simpson, who works in the live export trade out of Australia warns that consumer health could be an issue that hampers expansion of the trade. Simpson says that in her experience China has very strict import standards.
"Boxed meat from Australia is likely to meet a much higher and more reliable public health quality for Chinese consumers compared to live cattle, as live cattle must by law be medicated on the voyage if they become ill with veterinary drugs that can leave residues in the meat," says Simpson.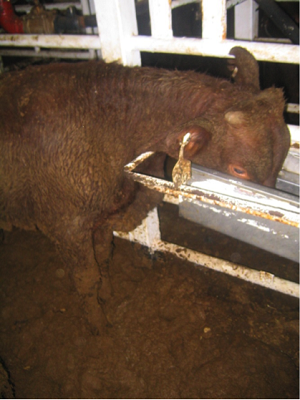 "Record keeping of the animals treated on a voyage is usually difficult due to the fecal contamination on the ear tags obscuring the individual animals identification, and excretion of the drugs given can contaminate food and water troughs, hence all animals in that pen. Therefore; unless the Chinese are prepared to feedlot all imported live animals for the maximum potential drug 'with holding period' of 90 days they risk the consumption of drug contaminated meat."
Simpson cites cases in other countries where animals are often slaughtered on the day they arrive. She has then seen cuts of meat in local butchers with bruising and needle marks from the injections she has given. Unaware of what to look for, local butchers have been oblivious that this is the case. Simpson makes the point that if someone had a reaction to penicillin or other drugs used on board, the meat could pose a human health risk.

"Public health is a concern I have had for years," says Simpson. "I think the public health aspect of meat consumption in any country importing live animals from ships is one that has gone under the radar for too long."
In Simpson's experience, Chinese officials are very fastidious with their inspections – to date mostly involving the import of dairy cattle rather than slaughter animals. They go on board ships arriving at their ports, and any rejected animals must be destroyed immediately. "My personal knowledge of exporting live cattle to China is that they have very strict and respectable health prerequisites," she says.
The live export trade has come under fire over animal welfare issues, particularly when high mortality voyages occur. Animals being shipped for slaughter are generally shipped in higher stocking densities on board than dairy or breeding animals, and can suffer a variety of mishaps as a result.
"My understanding is that China is also very sensitive to bad PR, so should a live export voyage go poorly and become an animal welfare issue in the media, China would likely look unfavorably towards the unwanted attention. Boxed beef eliminates that risk. Consignments by air reduce this also," says Simpson.