China Trials Coastwise LNG Transport by Container Ship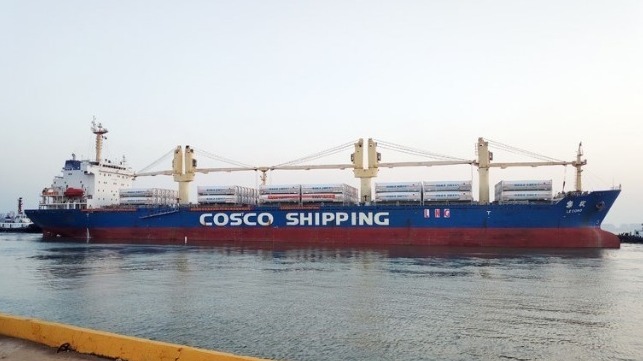 China's National Energy Administration has approved a trial effort to transport substantial volumes of LNG using intermodal containers on a feeder ship.
China is one of the world's largest LNG importers, and it needs a way to move the gas from its large import terminals in the south to end-users in the north. In the new trial, a small container feeder with 130 standard containerized LNG tanks delivered a load of gas from a terminal at Yangpu, Hainan island to Jinzhou, Liaoning, about 1,500 nm to the north. Containerized tank manufacturer CIMC believes that the voyage is the first of its kind in the industry.
As Beijing moves to improve the emissions profile of its energy mix, China's demand for natural gas has exploded, and shortages plagued parts of the country last winter due to high fuel demand and policies discouraging the use of coal.
With limited domestic gas supplies, China is heavily reliant on import volumes, and it is expected to import about 50 mtpa of LNG this year - an increase of more than 25 percent over 2017. However, China faces challenges with gas storage, distribution and peak shaving.The NEA and China's National Development and Reform Commission have called for interlinked pipeline networks, underground gas storage reservoirs and coastal LNG terminals as the primary solution to the problem. With NEA's support, CIMC predicts that intermodal, containerized LNG transport could also contribute to solving distribution problems.
"Though the existing pipelines and tank cars have played important roles in south-to-north natural gas transportation, they cannot yet fully handle the surplus capacity of terminals in the southern part of China," said CIMC executive Yongsheng Xu in a statement. "The transportation of LNG via tank containers is an innovative way and effective supplement to natural gas transportation. It is flexible, quick and a low-cost investment with short-term gains. Once the rail-sea-road-rail transport achieves significant breakthroughs, it will have more potential."
Beginning late next year, China's LNG consumption trends may shift when Gazprom's massive "Power of Siberia" pipeline is completed. Once operational, the line will deliver up to 60 billion cubic meters of gas per year from Russia to China, an amount equal to about 45 mtpa of LNG. The parties are already in negotiations for a second pipeline.