China to Boost Belt and Road Links with Saudi Arabia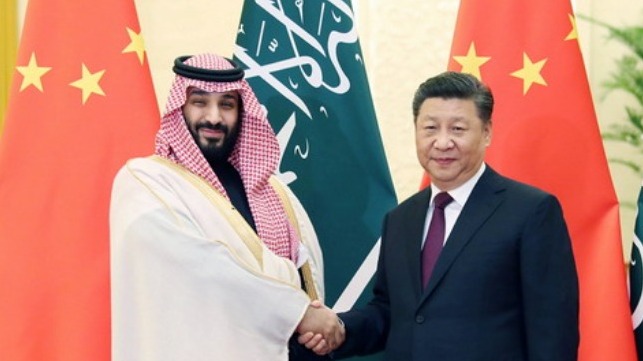 Chinese President Xi Jinping met with Mohammed bin Salman Al Saud, Saudi Arabia's crown prince, at the Great Hall of the People in Beijing last Friday.
"The two countries should speed up the signing of an implementation plan on connecting the Belt and Road Initiative with the Saudi Vision 2030," Xi said, also expecting progress on cooperation in areas such as energy, infrastructure, trade, investment and high value-added industries.
The two countries should jointly press ahead with the construction of China-Gulf Cooperation Council (GCC) free trade zone, he said.
China supports Saudi Arabia's efforts on promoting economic diversification and social reforms and safeguarding its national sovereignty, stated Xi, saying that China opposes any moves to interfere in Saudi Arabia's internal affairs.
Xi said China appreciates Saudi Arabia's active efforts to maintain regional peace, stability and development. China is ready to work with Saudi Arabia to jointly explore a governance path in the Middle East featuring the moves of "promoting peace through development" through jointly building the Belt and Road and strengthening regional development cooperation, said Xi.
"The two sides should promote counter-terrorism cooperation in the Middle East, strengthen international de-extremism cooperation and prevent the spread and infiltration of extremism," Xi said.
Saudi Arabia and China enjoy a rapid development in economic and trade cooperation at present, Mohammed said. "We see China as an important strategic partner and appreciate China's support for the domestic reforms and development of Saudi Arabia."
Noting that the Arabian Peninsula is a part of the ancient Silk Road, Mohammed said Saudi Arabia supports the Belt and Road Initiative and hopes to align it with the Saudi Vision 2030. Part of the vision includes transforming the nation into a leading industrial powerhouse and a global logistics hub focusingin on four key sectors: industry, mining, energy and logistics.
And at a G20 ministerial conference in Argentina last year Saudi leaders said they were willing to work with China on Belt and Road projects, particularly infrastructure for ports and energy grids.
For thousands of years, through the ancient Silk Road, Chinese tea, silk, porcelain, paper-making, printing, gunpowder and compasses spread to Europe via the Arabian Peninsula while Arab astronomy, calendar and medicine entered China. The port of Jeddah stands as a living monument to these past interactions.
Over the next five years, China is ready to import $2 trillion worth of goods from countries along the Belt and Road route and make an estimated $150 billion investment in relevant countries.