China's First 20,000 TEU Container Ship Delivered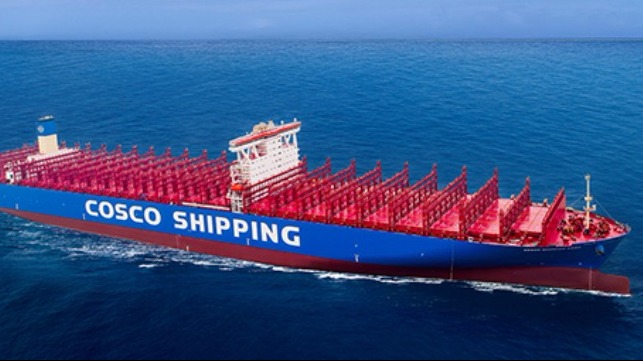 China's first 20,000 TEU container vessel COSCO Shipping Aries is undergoing sea trials at the Port of Nantong after a naming ceremony on Tuesday.
The delivery sets a new record in the country as the first 20,000 TEU ultra large container ship built in a Chinese shipyard with independent intellectual property rights. The vessel is owned by COSCO Shipping Container Lines and the naming ceremony took place at Nantong COSCO KHI Ship Engineering.
COSCO Shipping Aries is 400 meters (1,312 feet) long, 58.6 meters (192 feet) wide and has a maximum load of 197,000 tons. One of the longest ships in the world, she will commence operation on the Far East to Northwest Europe route on January 19. She is due to arrive at Piraeus in Greece on February 12, becoming the largest container ship to arrive at the Greek port to date.
COSCO won a majority stake in the Piraeus Port Authority in 2016. Currently Piraeus is able to handle three 19,000 TEU vessels with no draft limitation plus one 10,000-teu ship with a maximum draft of 13.8 meters (45 feet). However, in future, new works will see extensive dredging of the harbor to prove more access. A floating dock called Piraeus III is also expected to arrive at the end of next month, allowing the port to service large container ships.
The COSCO Shipping Aries represents another industry first as the first container ship to receive LR's Cyber-enabled ship (CES) descriptive note Cyber AL3 SECURE PERFORM for its energy management system. Cyber-enabled systems are considered to be systems installed on board ships that would conventionally be controlled by the ship's crew but which, through recent advances in IT, now include the capability to be monitored or controlled, either remotely or autonomously.