China Launches Carrier-Based Strike Exercise Near Taiwan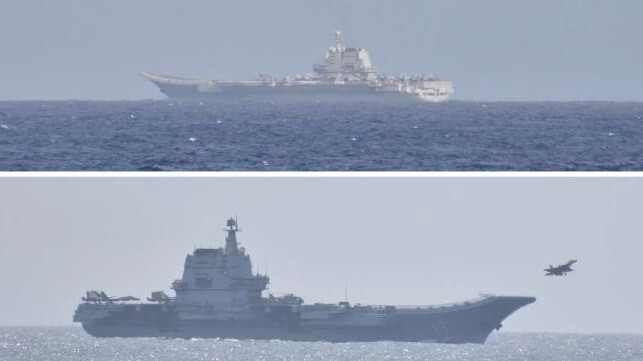 On Monday, Taiwan's defense ministry reported that four Chinese carrier-based fighters crossed into its air defense zone, marking what may be the first time that China's PLA Navy has conducted a mock naval aviation strike on the island. The PLA Navy carrier Shandong has been operating off the eastern coast of Taiwan since last week and has been launching sorties regularly.
The Shandong's operations were documented by Japan, which controls the chain of small islands just to the northeast of Taiwan. The carrier was launching fighters at a position about 120 nautical miles to the south of the island of Miyakojima, and the Japan Self Defense Forces scrambled their own aircraft to respond. Japanese assets on scene captured rare photos of Shandong's air wing in operation, including a takeoff from the carrier's ski-jump bow ramp (top).
In total, Japanese forces observed about 120 launches and landings, including about 80 by carrier-based fighters and about 40 by carrier-based helicopters.
Shandong was accompanied by a frigate, a destroyer and a replenishment vessel, according to the Japanese defense ministry. While this strike group was operating east of Taiwan, two Chinese destroyers were underway southbound in the Tsushima Strait, and a Chinese surveillance ship was returning westward after a circumnavigation of Japan, according to the ministry's monitoring updates.
On Tuesday, the day after China's three-day snap exercise finished, Taiwan's ministry of defense reported that nine PLA Navy warships were still operating in the vicinity of the island, even though the PLA's "Operation Joint Sword" exercise had concluded. Wang Wenbin, a spokesman for the Chinese foreign ministry, deflected a question from AFP about the ongoing naval presence off Taiwan.
"We have made clear China's position on this question. Let me stress again that China stands ready to take resolute measures to safeguard its sovereignty and territorial integrity. Let me also add that Taiwan is an inalienable part of China's territory and there is no such thing as 'Taiwan's defense ministry,'" Wenbin responded at a press briefing Tuesday.

Taiwan's political leadership has uniformly condemned the Chinese drills. In a joint statement Tuesday, all of Taiwan's major political parties blamed China for "escalating" regional tension.
"Beijing used President Tsai's visit to our allies and stopovers in the US as an excuse to launch large-scale exercises around Taiwan, changing the status quo across the Taiwan Strait and escalating the tension in the region. It has also severely disrupted the international order," Taiwanese lawmakers wrote. "We also call for a collective condemnation from the international community on Beijing's barbaric acts."
The uptick in Chinese activity around Taiwan follows last week's meeting between Taiwanese President Tsai Ing-wen and the leadership of the U.S. House of Representatives at an informal venue in California. Taiwan is a democratically-governed locality with de facto independence from the People's Republic of China, and Beijing puts top priority on reunifying the island with the mainland - by force if necessary.