China Furthers LNG Bunkering Technologies
One of China's leading LNG equipment manufacturers has released a number of innovations to support the nation's push for LNG for shipping.
CIMC Enric has designed large-capacity LNG tanks that it says will redefine ocean transport of LNG. The new 40-foot (12.2 meter) containers passed security tests in the United States recently. They enable LNG imports in small batches suitable for multi-modal road, rail and water transport.
"Once this mode of transportation is launched and widely accepted, a lot of wasted offshore natural gas will be saved," Yang Baoying, deputy general manager at CIMC Enric, told China Daily.
CIMC Enric has also recently completed sea trails of a 14,000 cubic meter LNG feeder carrier. The design of the carrier meets non-restricted waters requirements, and it can carry a variety of products including LNG. The 126-meter (413-foot) vessel has a design draft of 6.5 meters (21 feet) and two independent 7,000 cubic meter liquid cargo tanks. The C-shaped tanks have a diameter of 16 meters (52 feet) and length 40.3 meters (132 feet).
The cargo tanks were independently designed and developed in China. For the first time, China Classification Society reviewed the drawing and supervised the construction process.
Late last year, the company put into operation what it claims is the world's first overwater oil, water and gas fuelling station at Baguazhou, Nanjing. The 136-meter (446-foot) Harbor Star 02 is the world's largest overwater comprehensive energy replenishing barge, says CIMC Enric, and contains two LNG storage tanks.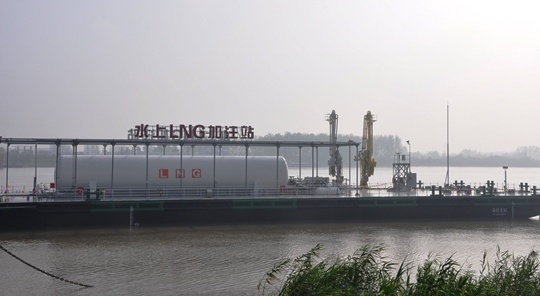 Also, late last year, the company also completed two LNG storage tanks with a capacity of 160,000 cubic meters each for the first phase of the ENN Zhoushan LNG receiving terminal and LNG bunkering station, China's first approved demonstration project using LNG to fuel international vessels. The tanks are expected to enter operation mid-2018 and will have an annual LNG handling capacity of three million tons.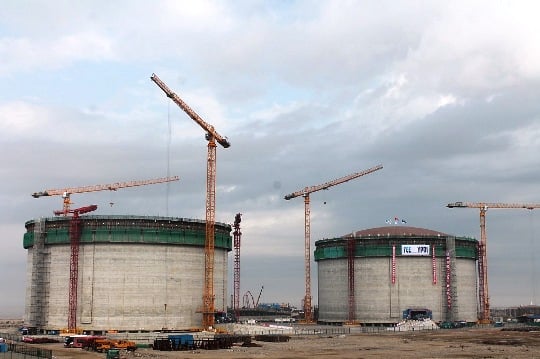 Sun Hongli, the company's deputy general manager, said the use of LNG is an important one for China to optimize its energy structure. With further implementation of environmental protection policies, the opening-up and maturity of the domestic natural gas market, China's LNG imports and related infrastructure facilities are expected to rise in the long term.
The Chinese government anticipates boosting the share of natural gas as part of total energy consumption to at least 10 percent by 2020 to alleviate high levels of pollution resulting from the country's heavy coal use. Since the country built its first regasification terminal, Dapeng LNG, in 2006, natural gas imports have risen dramatically, making China one of the largest LNG consumers in the world.