China Deploys Anti-Ship Missiles to South China Sea Islands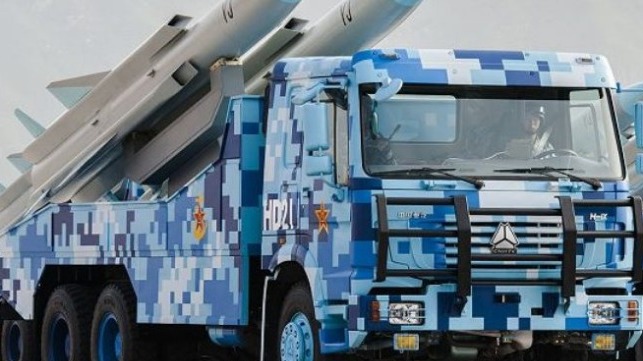 China has installed anti-ship and anti-aircraft missiles on three of its bases in the Spratly Islands. The new weaponry is in addition to the air-defense systems that analysts have previously identified.
According to defense sources, the PLA has deployed HQ-9B surface-to-air missiles and YJ-12B anti-ship cruise missiles on Subi Reef, Mischief Reef and Fiery Cross Reef, three key outposts in its constellation of fortified land features. The HQ-9B is an advanced SAM with both radar and infrared homing, and the YJ-12B is a Mach 2, long-range anti-ship missile capable of low-altitude flight and evasive maneuvers.
Cmdr. Thomas Shugart, the U.S. Navy's branch head for sea based strategic deterrent acquisition, recently posted an analysis of the sea area covered by the new weaponry (below). The affected area appears to cover the entirety of the Spratly Islands, and the addition of missiles at Scarborough Shoal would extend coverage over the majority of China's "nine dash line" claims in the South China Sea.
May 3, 2018
The U.S. government greeted the news of the missile installations with disapproval. "The further militarization of [China's] outposts will only serve to raise tensions and create greater distrust among claimants," a Pentagon spokesperson told CNBC. White House Press Secretary Sarah Huckabee Sanders said Thursday that "we're well aware of China's militarization of the South China Sea," and suggested that "there will be near-term and long-term consequences."
Last month, a spokesman from China's ministry of defense gave a rare acknowledgement that China is militarizing its island claims in the South China Sea, suggesting that China has "natural right as a sovereign nation" to deploy troops and military equipment to its new bases. The outposts are built atop reefs claimed by the Philippines, Vietnam and other neighboring nations.