China Announces South China Sea Exercise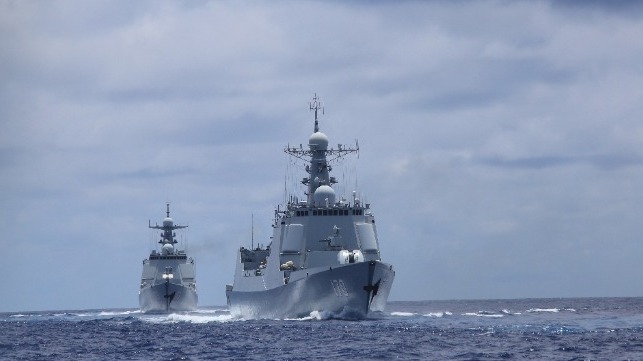 China announced on Friday that it will conduct combat exercises in the South China Sea but did not specify a commencement date. The news follows Friday's freedom of navigation operation conducted by the U.S. Navy destroyer USS Mustin. The vessel sailed near Mischief Reef, part of the Chinese-occupied Spratly Islands. However, China said in a statement that the training was routine and not aimed at any specific country or target.
It is possible that the PLA Navy's aircraft carrier Liaoning aircraft carrier will take part; the vessel has been tracked sailing south from Taiwan.
Under the leadership of Xi Jinping, all of the Navy's combat vessels spend about eight months each year at sea carrying out patrols and training operations; more sea time than under previous leaders.
Earlier this month, two PLA Marine Corps forces, more than 10,000 troops, traveled about 2,000 kilometers in a mobility exercise which was claimed to be the largest-ever maneuver by the Marine Corps.
China's defense spokesman Ren Guoqiang said on Friday that the U.S. should stop making trouble out of nothing. "Its provocations would only urge the Chinese military to further enhance our defense capabilities to protect sovereignty and security and regional peace and stability."
In 2016, the Permanent Court of Arbitration in the Hague dismissed China's broad claims to the South China Sea. Mischief Reef is the site of a 1,400-acre Chinese installation built upon reclaimed land. It features an 8,500-foot runway and is believed there are weapons including anti-aircraft guns present on the reef, which is also claimed by the Philippines, Taiwan and Vietnam.
The last published instance of a U.S. Navy freedom of navigation operation was a transit by the USS Hopper within 12 nautical miles of Scarborough Shoal in January.