China and South Korea Compete to Deliver First Large Ammonia-Fueled Ships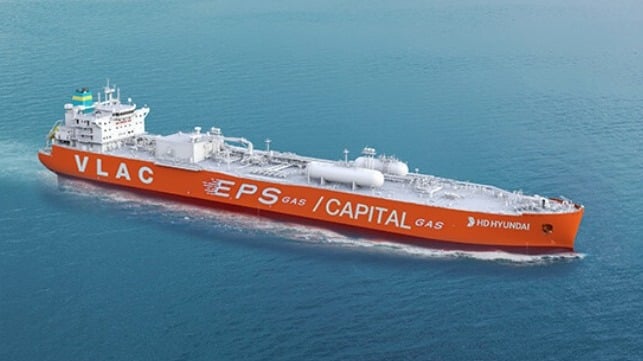 The competition is on between Chinese and South Korean shipbuilders to introduce the first and largest ammonia-fueled large gas carriers as a result of Easter Pacific Shipping's effort to lead the industry into the adoption of alternative fuels. After announcing the broad industry effort to accelerate the development and deployment of the first ammonia-fueled engines from MAN, additional details came out on the full scope of EPS's aggressive ship orders placed this week.
Hyundai's HD Korea Shipbuilding & Offshore Engineering reported two orders for a total of four very large ammonia carriers (VLACS) valued at a total of $463 million to be built at the shipyard in Ulsan, South Korea. Two of the vessels will be delivered directly to EPS while the other two are being built for Greece's Capital Management and will be operated by EPS. They anticipate the deliveries will begin in the second half of 2027 and each contract includes an option for one additional vessel.
The South Korean shipbuilder is highlighting the vessels as the largest ammonia carriers compared to the current in-service fleet. The four ships will each have a capacity of 88,000 cubic meters of ammonia. The design anticipates converting the ships to ammonia propulsion while Hyundai notes that they are also working with EPS and MAN to develop the ammonia-fueled engines.
If the specifications are modified as planned, KSOE says these vessels will become the world's first ammonia-powered carriers. They are also highlighting that with these orders they have received 19 of the 27 orders placed this year for large liquified petroleum gas/ammonia carriers. Also, with these orders, the shipyard has now exceeded 101 percent of its target for 2023 orders.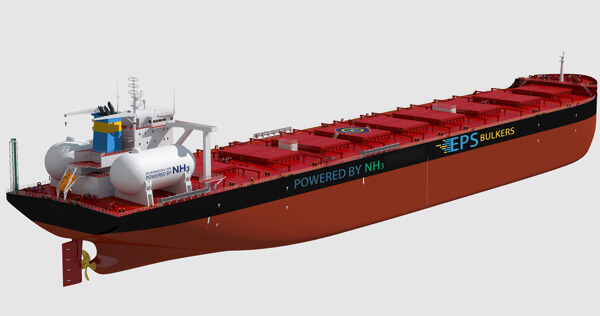 EPS also ordered three 210,000 ton ammonia-fueled bulkers to be built in China (CSSC)
Chinese's Jiangnan Shipyard is reporting that it also signed contracts with EPS calling for the construction of two liquid ammonia carriers that it anticipates will have a capacity of 93,000 cbm. These vessels are based on an independent design developed by the shipyard adapting its current Panda 93 class, of which EPS already ordered four vessels in May 2023. The ships are a fourth-generation design and will be versatile and able to transport LPG such as propane and butane in addition to ammonia.
China State Shipbuilding Corporation's Qingdao Beihai Shipbuilding Co. reports that it is also part of the ammonia-propulsion orders. They signed a contract for three 210,000-ton ammonia dual-fuel or dual-fuel ready bulkers with an option for three additional vessels all for EPS. The design places two, 3,000 cbm fuel tanks aft on either side of the deckhouse to fuel the ships. These ships are scheduled for delivery in 2026 and 2027.
Both shipbuilding companies will be joining EPS in the efforts with MAN to complete the design of the first ammonia-fueled marine engines. MAN has said it anticipates the designs will be completed by 2024 and that they would shortly thereafter be available to be incorporated into the ships. EPS has said it is taking an "act-now" approach to decarbonization looking to help lead the maritime industry in the transition.