Chile's Puerto Coronel Receives Two New Cranes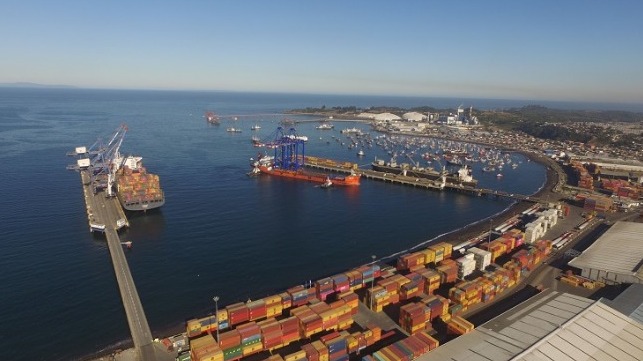 Chile's Puerto Coronel has received two new cranes from ZPMC. The cranes are anticipated to be fully operational by mid-April.
The cranes have a range of 65 meters (213 feet), equivalent to 23 rows of containers, a load capacity under spreader of 65 tons and load under hook of 75 tons. Coronel will be the first port of center-south of Chile to operate four Gantry-cranes, projecting to reach an average movement of 100 containers per hour.
In March 2018, the company had announced a $30 million investment to strengthen its infrastructure and acquire two new container gantry cranes capable of serving Super Post-Panamax ships and the construction of associated infrastructure.
Puerto Coronel's CEO Javier Anwandter said the port is ready to handle the cargo of the center-south of Chile, even Argentina. Over the last few years, Coronel has handled an increasing volume of Argentinean cargo, mainly fruit.
In 2018, Puerto Coronel handled 7.7 million tons - 11 percent more than 2017 - mainly from forestry, fishing products and fruit. Forecasts this year point at cargo volume increasing up to 8.4 tons, positioning it immediately behind the terminals of the central zone of the country, San Antonio and Valparaiso.
Puerto Coronel is located in the second urban and industrial center of the country, 500 kilometers south of the national capital, Santiago. Every week it receives four shipping services to Asia, the Americas and Europe.