Chevron Will Modify LNG Carrier Fleet to Reduce Carbon Intensity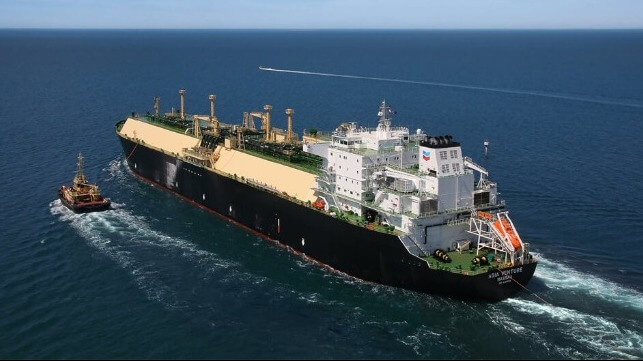 Chevron announced a multi-year ship modification project designed to reduce the carbon intensity of its LNG fleet operations. The shipping subsidiary of the energy company will be working with Singapore-based Sembcorp Marine Repairs & Upgrades, a subsidiary of Sembcorp Marine. With the International Maritime Organization having launched its Carbon Intensity Indicator (CII), which will generate the first rankings of ships, Chevron aims to lower the carbon footprint of its LNG transportation.
The project which is expected to be completed by mid-2025 seeks to install new technologies aboard Chevron vessels to support their energy transition goals. The focus is the LNG portion of Chevron Shipping Company with the company saying it is designed to align with the decarbonization targets set by the IMO and the broader corporate goals of its parent company.
"We believe LNG will be a key component of the global energy transition for years to come, and Chevron is focused on continuing its disciplined capital investment in our LNG fleet," said Mark Ross, President of Chevron Shipping Company.
Chevron says it aims to lower the carbon footprint of LNG transportation by installing new technologies. Among the elements cited in the announcement are technologies such as a reliquefication system, hull air lubrication, and a new gas compressor. Together, Chevron says these changes are expected to reduce cargo boil-off, lower fuel consumption, and increase volumes of cargo delivered.
Sembcorp Marine highlights that it has significant expertise in complex LNG fleet modifications such as the ones planned by Chevron and has a proven track record for lower carbon solutions for the maritime industry. Sembcorp Marine will provide Chevron with engineering, procurement, installation, and commissioning (EPIC) services for the modifications.
"Working with Chevron on its LNG fleet upgrades is an immediate way to accelerate the lowering of the carbon footprint in the maritime industry," said Wong Weng Sun, Sembcorp Marine President and CEO.
This project will mark the second major investment by Chevron in its LNG fleet in less than a decade. Starting in 2013, Chevron began taking delivery on a new fleet of vessels. The 13-vessel shipbuilding program along with a modernization program was the largest undertaking for the shipping operation in recent corporate history. Chevron Shipping Company took delivery of one Suezmax dynamically positioned (DP) shuttle tanker, two Suezmax DP lightering vessels, four very large crude carriers, and six liquefied natural gas (LNG) carriers.
The six LNG carriers were built by Samsung Heavy Industries with the last of the vessels being delivered in 2017. Each of the ships has four 40,000 cbm tankers for a total capacity of 160,000 cbm. They were also fitted with boil off technology that used the gas as fuel for the engines. At the completion of the expansion program, Chevron had 10 LNG carriers in its fleet.
Chevron Shipping Company operates a total fleet of approximately 30 ships. They range from conventional crude and product tankers to LNG carriers.