Chevron Shipping and Angelicoussis Study Ammonia Carrier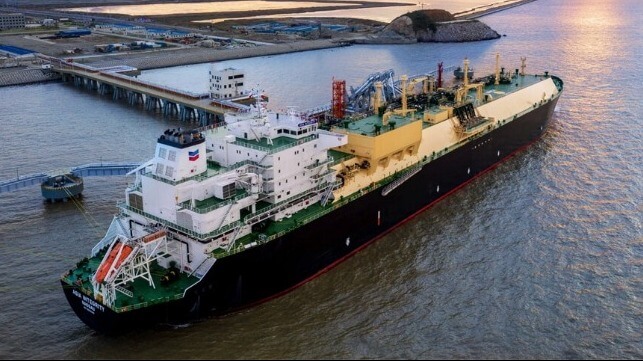 Chevron Shipping, a subsidiary of the energy giant, and its long-time partner in shipping Greece's Angelicoussis Group will conduct and joint study looking at the development and potential for ammonia transport. They join a growing number of companies looking to leverage expertise in gas transport to prepare for the challenges of shipping large quantities of ammonia as a potential alternative fuel or as a hydrogen carrier.
The two companies report they have been working together for more than 20 years starting with the development of conventional tankers. They have also been involved in the development of multiple LNG carriers operated for Chevron Shipping.
Angelicoussis Group and Chevron report they aim to advance ammonia's technical and commercial feasibility at scale, particularly as an export for petrochemicals, power, and mobility markets. The joint study will explore how tankers can be used to transport ammonia, a potential lower carbon marine fuel. The initial study will evaluate the ammonia transportation market, existing infrastructure, the safety aspects of ammonia, potential next generation vessel requirements, and a preliminary system to transport ammonia between the U.S. Gulf Coast and Europe.
"Through collaborating with Chevron Shipping Company on this study, we aim to make a meaningful contribution to prepare our industries for the transition towards lower carbon operations," said Maria Angelicoussis, CEO of the Angelicoussis Group. "Combining our many years of experience in seaborne transport of liquid and gaseous energy sources with Chevron's vast experience in the energy business provides a solid basis for this endeavor."
The research into the potential for large-scale ammonia shipping follows other efforts that both companies have independently embarked on to develop opportunities as the energy transport market transitions. Last year, Chevron announced another feasibility study working with Japan's Mitsui O.S.K. Lines to explore transporting liquified carbon dioxide (CO2) from Singapore to permanent storage locations offshore Australia. The companies said they would explore the technical and commercial feasibility of initially transporting up to 2.5 million tons per annum of liquified CO2 by 2030.
"Global value chain solutions are critical for growing the hydrogen market, and we believe shipping will play a crucial role," said Austin Knight, Vice President, Hydrogen, Chevron New Energies. "Chevron is leveraging its international functional marine expertise and collaborating with the Angelicoussis Group to pursue the delivery of lower carbon proof points to the market."
Angelicoussis Group in addition to LNG carriers also has a large fleet of bulkers operated through its Maran Dry Management company. They reported several projects looking at developing hydrogen-fueled vessels. They are exploring using the concepts both for bulkers as well as future tankers.