Challenges Ahead for Portland's Container Terminal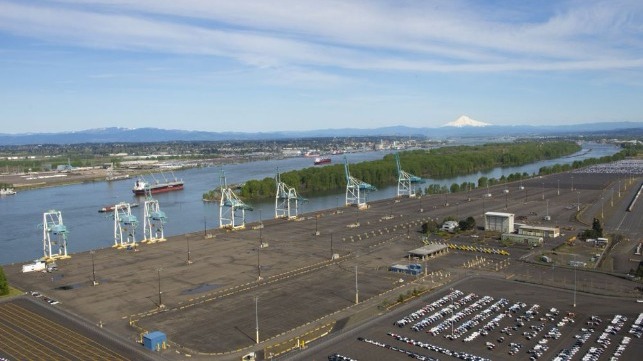 A team of consultants has advised the Port of Portland that its disused container terminal will have to attract multiple new revenue streams if it is to break even.
The consulting team, comprised of experts from Advisian WorleyParsons, IHS-Markit, The Beckett Group and the Coraggio Group, worked with 23 stakeholders to study the business case for the terminal. T-6 lost its last weekly container service in 2016, and private operator ICTSI gave up its lease early last year. The facility has received limited traffic since, and the port asked the team to look for the best ways to improve its utilization.
The advisors found that Portland is unlikely to regain a weekly transpacific container service due to consolidation amongst the ocean carriers; the dominance of the carrier alliances; the trend towards ever-larger megaships; Portland's small historical container volumes; and the restrictions imposed by the Columbia River shipping channel. Only eight transpacific services calling the Pacific Northwest deploy the 5,000-7,000 TEU vessels that could reach Portland, and all the members of an alliance would have to agree to add Portland to a route. "The trend toward larger ships in the transpacific will continue and there will be limited opportunities for Portland to attract a transpacific service due to vessel size limitations. Alliances control almost 90% of the transpacific freight. This is not a favorable condition for a smaller port like Portland," the study concluded.
As a container terminal, T6 achieved full-year profitability only twice in the past two decades - once in 1996 and once in 2000, a period when container moves were relatively high. The team estimated that the terminal would need about 200,000 moves per year to consistently break even, a volume it has never achieved. However, with a mix of cargo uses and a 50 percent share of the regional market, T6 could break even with about 150,000 moves per year - a level it last surpassed in 2004. "Financial sustainability will be challenging to achieve even in a mixed-use terminal scenario," the team advised.
Examples of alternative and niche cargoes could include refrigerated cargo from the produce trade between North and South America, where vessel sizes are a good fit for the Columbia River. The port could also pursue container bulk handling, in which bulk cargoes are trucked to the port in standard shipping containers and then dumped into bulkers' holds at the terminal. General cargo and intermodal rail (facilitated by a BNSF shuttle service to Seattle/Tacoma) could provide additional revenue streams.
The port is already moving in this direction. After a meeting with Oregon Governor Kate Brown last year, Singapore-based Swire Shipping announced that it will launch a monthly Portland-to-Australia service to export Oregon-made Western Star trucks. Swire's freighters can handle a mix of breakbulk cargo belowdecks and containerized cargo above, allowing the carriage of a wide range of commodities, heavy equipment and materials.
"This analysis reinforced that there is no silver bullet for container service," said Curtis Robinhold, Port executive director. "With the strong backing of shippers, labor and businesses, I'm hopeful that we can continue to offer container service options for shippers at T-6, while ensuring long-term financial stability. We heard strong support from our partners in the shipping community that they are willing do to what it takes to help support container service at the terminal."