Cement Carrier Grounds off Iceland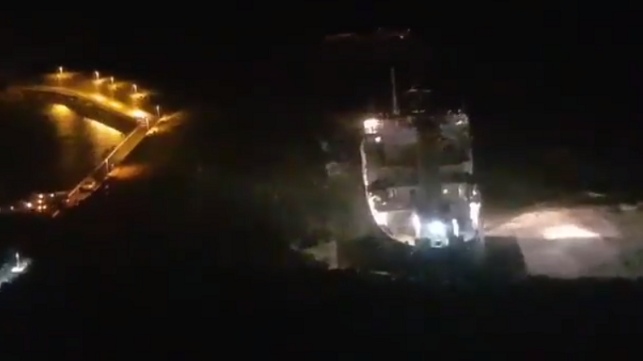 The cement carrier Fjordvik went aground on a breakwater at the entrance to a harbor at Keflavik, Iceland shortly after midnight on Friday. Her 14 crewmembers and her pilot were safely lifted off the vessel by helicopter at about 0200 hours Saturday morning.
The Fjordvik remains on the rocks, and local media have reported a hull breach and a small oil spill. She had about 100 tons of oil on board at the time of the accident, and an initial attempt to pump the fuel off onto tank trucks was not successful. Salvors returned with more powerful pump equipment on Monday and removed the rest of her bunkers.
The local harbormaster has indicated that if Fjordvik is refloated, she cannot be towed into the port. Keflavik is the home of Iceland's main airport, and its harbor has the only terminal for aviation fuel in the country; in the event that the tow should go wrong and block the harbor entrance, flights might be grounded until the vessel could be removed.
Ardent has been selected as the salvor, in cooperation with Iceland's government. The weather forecast for salvage operations is unfavorable, with northeasterly winds of 20-24 mph throughout the week, and the site of the grounding is exposed to wave action.
The cause of the casualty remains under investigation. The Icelandic pilot on board at the time of the grounding, Jon Petursson, said in a Facebook post that he "would not want to put [his] worst enemy in this situation, it is a lot of shock." Petursson thanked well-wishers for their support and said that he has nothing to hide in the inquiry into the casualty.
The 4,000 dwt cement carrier Fjordvik was built in 1976. Port state control inspectors at Aalborg, Denmark found two deficiencies aboard the vessel this January, including unspecified "hull cracking."