Ceiba: Schooner's Keel has been Laid
The keel has been laid for Ceiba, a 148-foot, three-masted, square-topsail schooner being built by Sailcargo Inc. in Costa Rica.
The vessel will be used for carbon-neutral cargo shipping, and the build combines traditional ship architecture and modern technology.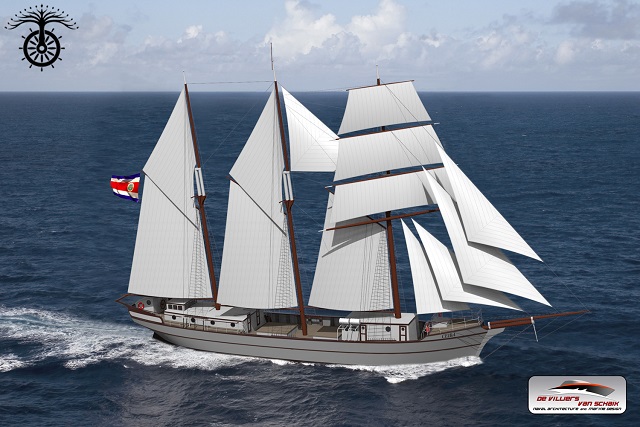 Framing is expected to start soon. Currently the team is constructing the staging around the keel to support this next part of the build phase. This is being done using predominantly cypress wood that has been responsibly-harvested from the local mountain town of Monteverde; a part of 400 trees donated to the project.
Trunnels stock is also beginning to be cut up, and as the framing stage floor cross-beams are being put into place, parts of the team are studying the lofting floor plans to begin drawing out the first pieces of the frames of Ceiba.
Propulsion
Ceiba will be powered solely using the wind and a 100 percent electric engine, which will charge all of the ship's own energy, functions as both a propulsion system and a generator whilst sailing. The engine will be combined with modern batteries and solar panels so that all auxiliary power is renewably sourced.
An advanced variable pitch propeller will convert kinetic energy into stored electrical energy to power the ship's functions. Due to the high torque efficiency of electric engines, Ceiba's engine will only need to be about 120 horsepower, which is easy half of what would be required for other engine designs.
Her three masts will provide sufficient sail area to sail in very light winds and enough flexibility and maneuverability for sail changes during heavy weather. Having sail area lower to the deck helps to stabilize the vessel, making her safer. Her three-masts also allow for flexibility when loading or discharging cargo, as her spars double as cranes.
Costa Rica
Sailcargo chose Costa Rica for the project because of its commitment to carbon neutrality by 2021 and its favorable geographic position and business environment.
The project is being funded as it happens, and more information is available here.