Carrier Was 3,000 NM Away During North Korea Tensions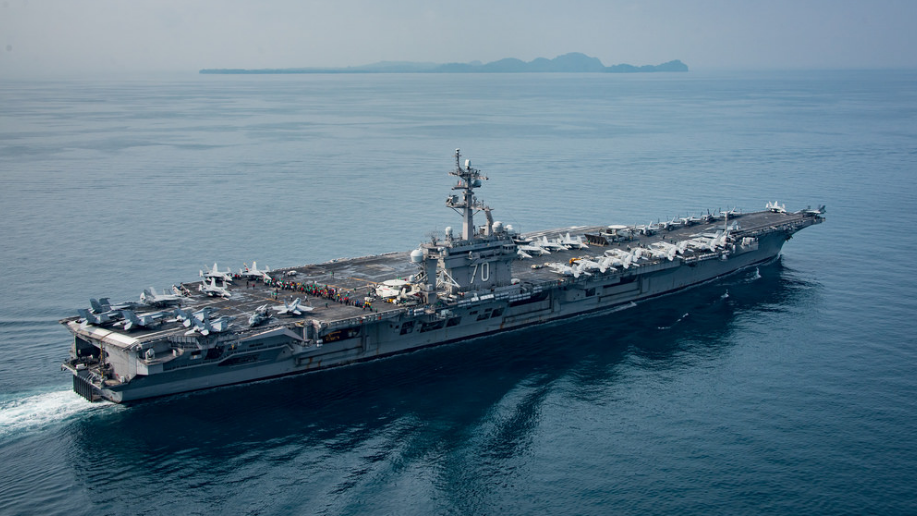 The U.S. Navy's Flickr account is not usually a source of headline news, but it drew considerable attention on Tuesday after a new photo of the carrier Carl Vinson appeared to contradict widespread reports of her impending arrival off North Korea.
Last week, news of the Vinson's sailing orders and fears of another North Korean nuclear test raised the specter of armed conflict on the Korean Peninsula, with China's foreign minister warning of "storm clouds" gathering over the region. However, the photo, with a caption reading "SUNDA STRAIT (April 15, 2017)," appears to put the Vinson off of Java during the peak of the tensions. The caption date was six days after Third Fleet said she had received new orders "to sail north and report on station in the Western Pacific Ocean" after departing Singapore; it was four days after Defense Secretary James Mattis told reporters that "she's just on her way up [to Korea] because that's where we thought it was most prudent to have her."
White House Press Secretary Sean Spicer had also confirmed the Vinson's redeployment. A Pentagon spokesman told the New York Times on Tuesday that "Sean discussed it once when asked, and it was all about process."
Despite multiple reports to the contrary, the Vinson and her escorts appear to have headed away from Korea last week: Navy officials confirmed to Defense News that the carrier was indeed in the Sunda Strait on Saturday, 3,000 nm from the scene of the diplomatic tensions. The Times reports that she had been completing a planned exercise with Australian forces in the Indian Ocean.
Unnamed Korean government sources told the Korea Herald today that Vinson is expected to join an exercise off the nation's east coast on April 25, the anniversary of the founding of the North Korean army. "The US is coordinating with the South Korean government about a combined drill which the Carl Vinson Strike Group can join," a South Korean official said.