Carnival Corporation Noted for Diversity and Inclusion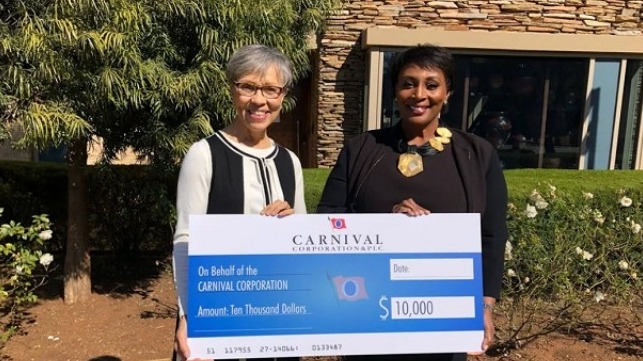 Carnival Corporation has been included in the first-ever NAACP Equity, Inclusion and Empowerment Index, which assesses U.S. companies on their commitment to racial and ethnic equity.
Carnival Corporation's dedication to diversity and inclusion has been a priority under the leadership of Arnold Donald, who has served as CEO since July 2013. A strong believer that diversity drives innovation, Donald has appointed numerous diverse and dynamic leaders from a wide variety of backgrounds into leadership roles - as presidents of the company's cruise line brands and in key roles within global port and destination development, human resources, marketing, sales, operations and procurement.
Earlier this month, Carnival also donated $10,000 to the Oprah Winfrey Leadership Academy Foundation. The donation is to provide support to the Oprah Winfrey Leadership Academy for Girls - South Africa, an independent boarding school founded by Winfrey to provide world-class education to disadvantaged girls in South Africa. Carnival Corporation's chief procurement officer, Julia Brown, presented the gift during a visit honoring what would have been the 100th birthday of Nelson Mandela (July 18).
And in April, Carnival was recognized by the Human Rights Campaign with a perfect score for the second consecutive year in its Corporate Equality Index, which rates U.S. companies on their treatment of LGBTQ consumers, investors and employees. Carnival Corporation's 2020 sustainability goals include a commitment to building a diverse and inclusive workforce and providing all employees with a positive work environment and opportunities to build a rewarding career to further drive employee engagement.
The company has also shown support through:
• Offering welcoming environments with LGBTQ cruises, onboard activities and special events, including hosting the 2017 Annual Seattle Men's and Women's Chorus Gala Dinner on Holland America Line;
• Participating in the Florida Businesses for a Competitive Workforce coalition to end LGBTQ discrimination in the state's businesses;
• Serving as a supporting member of the National LGBTQ Task Force and the San Diego LGBT Community Center through Holland America Line;
• Participation and sponsorship of annual Pride events to raise awareness and funds for LGBTQ organizations, including the Seattle Pride Parade and Southampton Pride; and
• Partnering with equal opportunity champions such as the Human Rights Campaign, Executive Leadership Council, Hispanic Association on Corporate Responsibility, Catalyst, Leadership Education for Asian Pacifics and CEO Action for Diversity and Inclusion.
Carnival Corporation was named as one of the "50 Best Companies for Diversity" by Black Enterprise magazine for its inclusiveness, including workforce education, board member diversity, senior management, employee base and procurement, and was named one of the top "100 Best Corporate Citizens for 2017" by Corporate Responsibility Magazine, ranking No. 23, the highest among firms in the travel and tourism sector and the only cruise company to make the list.
Additionally, in 2017 CEO Arnold Donald topped the EMpower 100 Ethnic Minority Leaders List and Carnival Corporation was recognized as a top organization supporting the advancement of women's leadership and diversity in the workplace as part of the Catalyst CEO Champions for Change (Catalyst Champion initiative).