Captain of Wrecked OS 35 Bulker Pleads Guilty to Charges in Gibraltar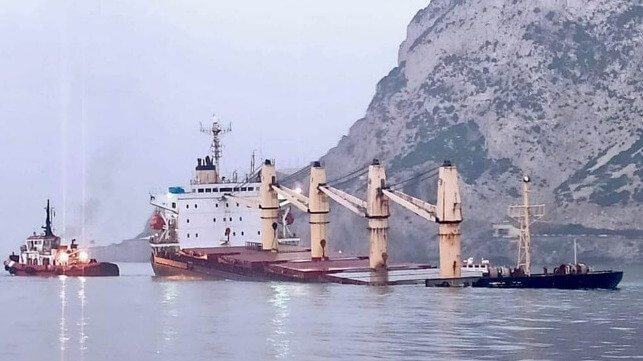 The captain of wreck bulker OS 35, which sank off Gibraltar in August 2022, could be sentenced to jail time after agreeing to plead guilty today in a Gibraltar court. As reported by the Gibraltar Chronicle, the captain will be sentenced on June 12 on charges that have a potential prison sentence of two years.
A Syrian national, Abdulbari Kaddoura, was in command of the OS 35, a 35,000 dwt bulker registered in Tuvalu, that was outbound on August 30, 2022, for the Netherlands with a cargo of steel rebar after having arrived on August 29 from Oman. A Gibraltar pilot was aboard the vessel when it hit the Adam LNG, a 90,986 dwt gas carrier that had also arrived on August 29 after unloading its cargo in Malta. The LNG carrier was in the anchorage outside the port and only received minor damage.
The Gibraltar Chronicle reports that prosecutors had brought up the master on six charges ranging from conduct endangering the safety of his ship to failing to comply with regulations to prevent a collision. There was also one count related to the damage from the oil spill and its impact on historic areas of Gibraltar.
The captain pleaded guilty to three of the charges related to the operation of the vessel, with the newspaper reporting prosecutors told the court they would accept the plea. They are holding the three additional counts, including the pollution damage to antiquities, open.
A lawyer for the captain told The Gibraltar Chronicle that he would seek fines and a suspended jail sentence. He said the accident was the result of a "professional misjudgment." After the allision, the vessel was directed by the authorities into a position less than 1,000 feet off Catalan Bay where it settled at the bow to the bottom. The bow initially was resting at a depth of approximately 56 feet. Salvage teams later decided to sink the stern of the vessel and now are preparing an operation scheduled for the coming weeks to lift and remove the wreck.
Speaking for the captain, his lawyer told the Gibraltar Chronicle that the wind and tides had contributed to the accident. He said a sequence of events lead up to the bulker hitting the other vessel without providing further details.
The sentencing hearing is scheduled for June 12, 10 days after the salvage team expects to complete removing the sections of the ship from the seafloor. The revised timeline for the salvage project expects it will be completed by June 16.
The newspaper is reporting that the government has spent nearly $9 million so far in response to the OS 35 casualty. The Gibraltar Ports Authority plans to seek reimbursement from the vessel's insurers.