Captain Faces up to Five Years for Crimea Port Call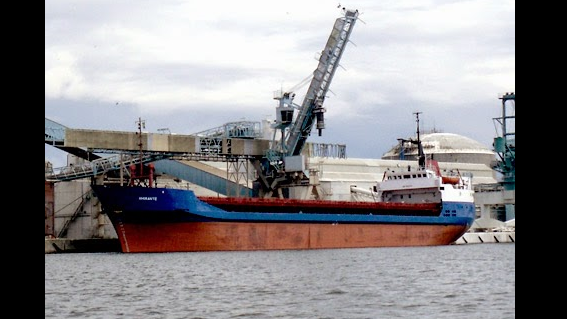 Ukrainian military prosecutors have charged the Syrian captain of the cargo vessel Sky Moon with violating a ban on port calls in Crimea. If convicted, the captain faces up to five years in prison.
In a statement, the Military Prosecutor's Office of the Southern Region said that the captain was in command of the Moon for eight calls at the ports of Kerch, Feodosia and Sevastopol during 2016. Prosecutors said that the calls were part of the Moon's bulk cargo trade carrying scrap, soda ash and flax seeds on voyages to ports in Moldova and Turkey.
The Moon was arrested on November 30 and taken to the port of Reni, on the Danube. The assistant head of Ukraine's state border guards told Interfax that the Moon's crew had passport markings from Russian customs for entry and exit in Crimea, which established that they had called at a banned port.
Prosecutors said that the Moon's Romanian owners have filed a court action to get her back. However, even if they succeed, Ukrainian maritime authorities might still find other grounds to detain her: two weeks prior to the Moon's arrest, a port state control inspection in Romania found a long list of safety deficiencies, notably corrosion and "hull damage impairing seaworthiness (holed)."
Case tests new blacklist policy
Russian-allied rebel forces set up an autonomous government in the Crimea in 2014, effectively resulting in a Russian annexation of the peninsula. As Ukraine no longer has a presence in Crimea, it cannot operate checkpoints at the peninsula's seaports, meaning that – according to Ukraine, at least – entry into the "occupied territory" of Crimea by sea is unregulated and therefore illegal.
Ukraine began its crackdown on ships calling in Crimea shortly after the occupation began, but this year it extended its enforcement efforts to cover crewmembers. In February, Ukraine's SBU security service said that seafarers who visited Crimea "will not be able to visit Ukraine for the next three years."
Many European operators have shown a willingness to visit Crimean ports despite Ukraine's warnings, Lloyd's List says. Lloyd's conducted an investigation of trade data for Crimea and found a significant number of ships with European ties calling at banned ports. "Can the Ukrainian government tell me where I can and cannot go with my vessel?" one German shipowner reportedly said.