Canadian Coast Guard Takes Delivery of Icebreaker Captain Molly Kool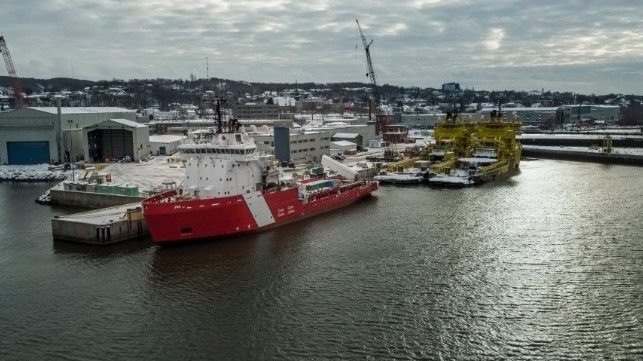 The Canadian Coast Guard has taken delivery of the first of the three medium icebreakers recently refitted by Chantier Davie.
The delivery of the CCGS Captain Molly Kool is the first such event for a Coast Guard icebreaker in 25 years. The vessel was originally built as the icebreaking anchor handling tug Vidar Viking in 2001. She has two sister ships, Tor Viking and Balder Viking, both of which are expected to enter Canadian Coast Guard service over the next two years.
All three medium icebreakers, recently acquired by the Coast Guard, will undergo refit and conversion work at Chantier Davie in Lévis, Québec, to ensure they comply with Canadian regulatory and Coast Guard operational standards before entering the fleet. The Captain Molly Kool will allow the Coast Guard to provide essential services during the upcoming winter season, while the other two undergo refit.
CCGS Captain Molly Kool measures 93.7 meters in length, and has a beam of 18 meters. The 18,278 horsepower vessel is equipped with twin propellers and twin rudders, providing a high degree of maneuverability. The ship has a cruising speed of 12 knots and a maximum speed of 16 knots. She can maintain a speed of three knots through ice up to one meter thick and can operate continuously without refueling for approximately 25 days.
The CCGS Captain Molly Kool's home port will be in St. John's, Newfoundland and Labrador, and she will have a crew of 19.
The namesake of the icebreaker, Captain Myrtle 'Molly' Kool, was the first woman in North America to become a master mariner. She was born in 1916 in Alma, New Brunswick. In 1937, she was the first woman in North America to become a licensed ship captain, and in 1939 was awarded her coastal master's certificate.
Kool spent most of her childhood aboard her father's vessel Jean K, where she delivered cargo from ships anchored in deep waters to ports along the Bay of Fundy coastline. Kool was interested in obtaining her marine certifications and applied to the merchant Marine School in Saint John, only to be turned down. Nonetheless, she persevered, and earned her mate's certificate in 1937. Kool continued to pursue additional certifications, and was awarded her coastal master's certificate in 1939, from the Merchant Marine Institute, in Yarmouth, Nova Scotia. Her certification enabled the formal addition of the prefix "she" to the Canada Shipping Act; up to that point, all mariners were referred to as "he."
Now entitled to operate as a captain in coastal waters, Kool's father handed her the Jean K, which she captained for the following five years. It was then that Kool built her legacy as a courageous and fearless mariner. She spent years sailing the treacherous waters of the Bay of Fundy, notorious for having the world's highest tides. Kool dealt with rain, fog and ice as her vessel hauled cargo up and down the East coast, sometimes making it as far south as Boston. Through her hard work, leadership, and determination, Kool earned the respect of her male colleagues, who, at that point, made up the vast majority of the maritime and shipping community.
After her life at sea, Kool moved to Maine, where she married and spent the rest of her life. She died in 2009, and her ashes were scattered over the Bay of Fundy, near her birthplace and where she grew up.