Canada Determined to Implement Northwest Tanker Ban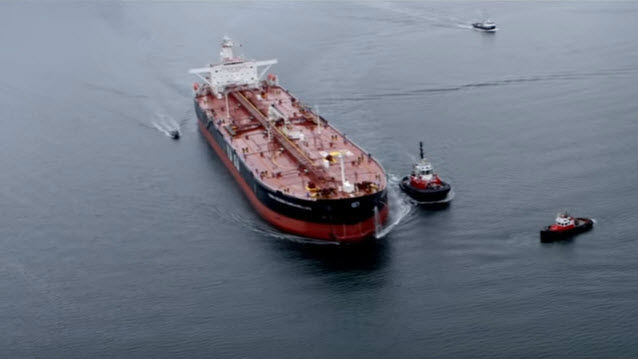 Canada's Liberal government will deliver on its pledge for a moratorium on oil tanker traffic along the northern coast of British Columbia this year, CBC News reported on Friday.
Transport Minister Marc Garneau confirmed the plan in an interview with CBC Radio's "The House," the broadcaster said on its website.
Canadian Prime Minister Justin Trudeau last year instructed Garneau to formalize the ban on oil tanker traffic, effectively slamming the door on a pipeline project that was already facing massive development hurdles.
The ban is one of several obstacles to the building of Enbridge Inc's Northern Gateway pipeline, which would carry oil sands crude from near Edmonton, Alberta, to a deepwater port at Kitimat, British Columbia, for export to Asian markets.
Efforts to move oil by rail to northern British Columbia ports would also no longer be viable, but the moratorium would not impact the proposed tripling of capacity on Kinder Morgan's Trans Mountain pipeline, as that project is in the south.
With a moratorium in place, the energy industry will likely ramp up pressure on governments to approve other export projects, like the Trans Mountain expansion and TransCanada Corp's Energy East.
Kinder Morgan Canada president Ian Anderson said the ban should not affect the Trans Mountain project, if the company demonstrates tanker traffic near the Vancouver port is safe.
Enbridge, meanwhile, said it remains committed to Northern Gateway, and questioned the economic impact of an oil tanker ban on northern communities and Western Canada as a whole.
Canada's previous Conservative government approved the C$7.9 billion ($5.9 billion) pipeline last year, subject to more than 200 conditions recommended by regulators. But the project has faced staunch opposition from communities along its B.C. route and an investment decision has been delayed.
Like the proposed Keystone XL pipeline to the United States, Northern Gateway is loathed by environmentalists and Aboriginal groups who fear it will hasten the development of Canada's oil sands and exacerbate climate change. Many also worry about the risk of a spill.
U.S. President Barack Obama rejected Keystone XL earlier this year, leaving Canadian producers facing a looming capacity crunch, with new output coming online but no new pipelines to carry that oil from landlocked Alberta to market.
In October, the International Chamber of Shipping (ICS) wrote to Garneau saying that the environmental record of the shipping industry, especially the tanker sector, is impressive. On average, worldwide, there are fewer than two significant oil spills (over 700 tons) per year, compared to around 25 such incidents thirty years ago, despite a doubling of the amount of oil transported by sea.
The letter emphasizes the importance of Canada adhering to its obligations under UNCLOS, in particular the rights to freedom of navigation and 'innocent passage' through a Party's territorial waters as enshrined in Articles 87 and 90.
"We believe that a moratorium applicable to Canadian waters would be draconian step that could lead to serious concerns being raised by Canada's international trading partners. Such a measure would set an unwelcome precedent that might be emulated elsewhere, including by individual U.S. States, with the potential to impact greatly on the efficiency of world trade as well as that of Canada."