California Ports Prepare for First Tropical Storm in 84 Years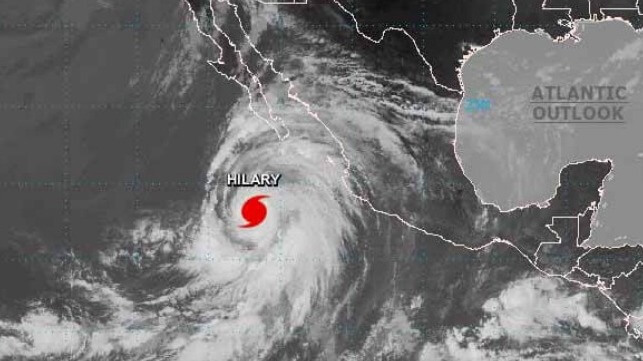 The National Weather Service and the U.S. Coast Guard have begun to issue warnings and watches as the first topical storm to travel north along the Pacific Coast in 84 years rapidly intensified. The storm designated Hurricane Hilary, grew in strength on Thursday and Friday raising concerns for dramatic amounts of rainfall, high winds, large swells, and pounding surf along the California coast from the Baja to San Diego and north potentially impacting the Los Angeles-Long Beach port complex by later in the weekend.
If the storm reaches California as a hurricane as forecasters expect it will, it would become the first to impact the region since 1939. The only other prior recorded hurricane to make landfall in California was in 1858.
Hilary jumped rapidly from a topical disturbance off the coast of Mexico going first to 75 mph winds and now reports Friday afternoon of sustained winds of 145 mph. It is expected to remain a Category 4 storm, or briefly reach Category 5 before losing some strength as it comes north and possibly touches land first in Mexico.
Forecasters warn even if the storm crossed overland in Mexico, it is still expected to dump a year's worth of rain in parts of southern California, Nevada, and Arizona. They are already warning to prepare for anywhere between 3 to 5 inches of rain across the area, with the center receiving as much as 10 inches. Rainfall of 1 to 3 inches is expected broadly through the region.
The public and the maritime community is being advised to closely monitor the forecasts and expected course of the storm which is likely to evolve in the coming hours. Southern California has already issued its first-ever tropical storm watch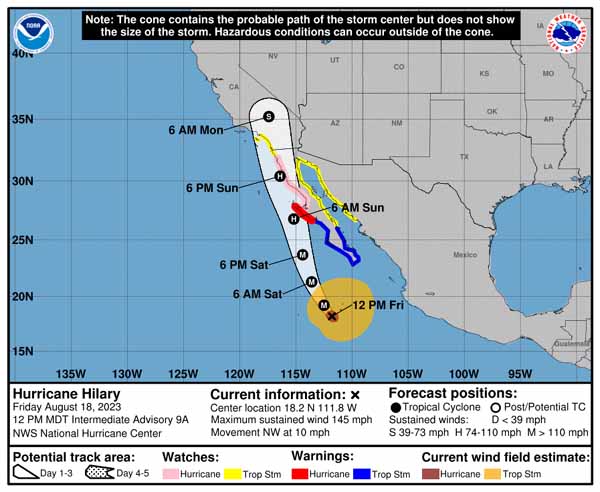 "As we face the rare occurrence of a hurricane approaching Southern California, I want to assure the community that the U.S. Coast Guard is working diligently with our partners to mitigate the impacts of Hurricane Hilary," said Captain Ryan Manning, commander of Sector Los Angeles/Long Beach. They issued common sense advice to secure boats and property, stay off the water, and stay clear of the beaches as the storm arrives.
The USCG has also issued a heavy weather advisory with a special focus on the commercial maritime community in southern California. The Port of San Diego expects to suspend operations starting later in the weekend, while the ports of Los Angeles, Long Beach, and Hueneme to the north are closely monitoring the storm with additional advisories expected as Hilary approach southern California.
Memories are still fresh from a major oil leak that happened in October 2021 near the San Pedro Bay port complex. The USCG determined that two containerships likely dragged anchor during a winter storm in January displacing and damaging a pipeline running from offshore platforms to the coast. Port operations and anchoring policies were revised after that incident.
The USCG Sector is already advising vessels greater than 1,600 gross tons to consider getting underway, especially as the forecasts begin to approach wind speeds including gusts that will exceed 35 knots. They are telling vessels that remain at anchor to prepare a second anchor, if possible, place their propulsion plant in immediate standby, and monitor to ensure the vessel does not start to drag anchor. When wind speeds exceed 35 knots, vessels are being advised to have their propulsion plant on immediate standby. They are also being told that they must remain more than three nautical miles from other vessels as well traffic lanes, shoals, and shore.
If the weather or traffic density varies, the Captain of the Port may order vessels to proceed underway or maintain assist tugs alongside.
Everyone is being advised to monitor the forecasts and changing conditions closely in the coming hours. Additional warnings and advisors are expected as the storm continues on its track northwards.