Burning Grimaldi Con/Ro Sinks in Bay of Biscay
On Tuesday afternoon, the Grimaldi Lines con/ro Grande America sank in the Bay of Biscay at a position about 180 nm off the coast of France.
French rescue agency Premar Atlantique received a distress call from the America at 2000 hours Sunday night reporting a container fire. The situation on board quickly deteriorated, and the fire grew out of control. The master ordered abandon ship at 0200 hours, and the crew of the Royal Navy frigate HMS Argyll worked through difficult conditions to bring America's crew on board. All survived, but some required medical treatment, and they were evacuated by helicopter on Monday morning.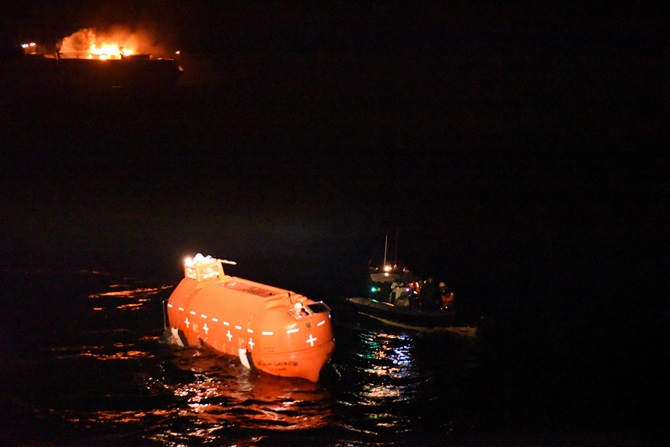 The Grande America's lifeboat in the early hours of March 11 (HMS Argyll / Royal Navy)
Premar Atlantique reported that the fire's intensity increased overnight Monday, and the America took on an increasingly severe list. She finally went below at 1526 hours on Tuesday, coming to rest about 4,600 meters below the surface.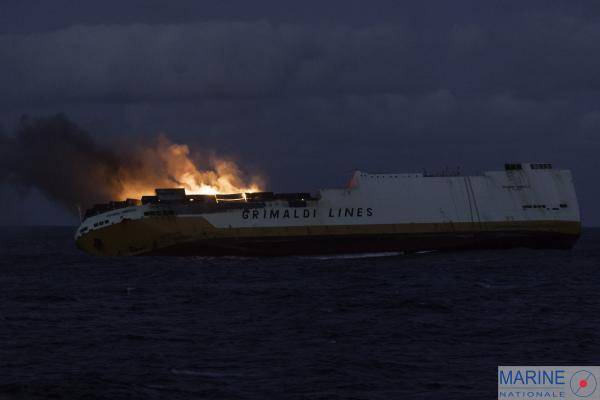 The salvage tug Abeille Bourbon began fighting the fire on Monday, but her efforts were suspended because salvors wanted to avoid worsening the Grande America's starboard side list. The Bourbon was relieved Tuesday by the French Navy firefighting tug VN Sapeur.
The initial response was hampered by poor weather conditions, which are expected to worsen over the next 48 hours with winds of 30-35 knots, gusts to 50 knots and seas of 13-16 feet. The French frigate Aquitaine and the Sapeur are still on scene to ensure safety of navigation and maintain surveillance.
In a statement, shipowner Grimaldi Group said that the fire was caused by "some cargo loaded on board the vessel." Grimaldi is now arranging for pollution prevention measures to mitigate any potential damage to the marine environment resulting from the vessel's sinking.