Bumi Armada Turns to Drone Tech to Reduce Methane Leaks Offshore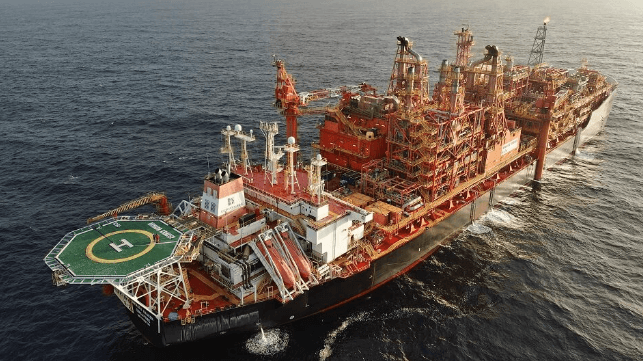 FPSO operator Bumi Armada is working to reduce the greenhouse gas emissions intensity of its oil and gas operations in the UK North Sea, and it is turning to a novel solution: drone technology.
Methane leaks are a major source of emissions from upstream production, and are particularly pernicious because methane is about 25-80 times more potent than CO2 as a greenhouse gas (depending on the method of calculation and timescale). Methane can come from natural gas flaring and from tiny leaks in pipe joints, valves and processing equipment; the effect is cumulative, and worldwide, the IEA estimates that the energy industry emits about 135 million tonnes per year (3.4 to 10.8 billion tonnes CO2 equivalent).
To detect and control methane emissions, Bumi Armada has hired drone surveillance company IKM Testing to scan the Kraken FPSO for the location and size of any "hot spots." By returning and performing multiple surveys, IKM also profiled the efficiency of the FPSO's flare, determining how much unburned methane escapes the flame. The results will inform an overall emissions reduction plan for the installation.
Controlling methane leaks has a twofold benefit for the operator: it improves the platform's emissions intensity profile for compliance and ESG purposes; and it keeps valuable and hard-earned natural gas inside the piping, conserving product available for sale to customers.
"The energy industry, as one of the largest emitters of methane gas, has made concerted efforts to monitor and reduce its output in line with net zero targets," said IKM methane technical director Sam Rowley. "
The upstream sector isn't the only segment of the economy targeting fugitive natural gas emissions. While natural gas is an essential energy source for the global economy, a small number of municipalities and state governments have begun to ban its use in new structures because of the potential for leaks in production, transport and utilization. Utility gas piping, meters and gas-powered home appliances all emit small quantities of methane, and eliminating natural gas hookups in new construction is a rapid - if politically controversial - new control measure.