Bumi Armada Proposed Floating Unit to Build Out CO2 Storage Operations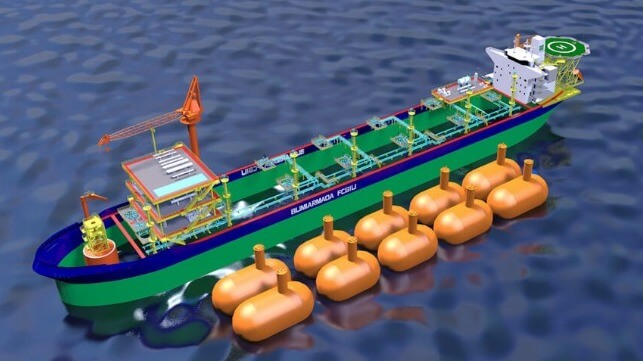 Malaysia's offshore oilfield service company Bumi Armada Berhad is looking to build out its efforts for CO2 transport and storage by presenting its design for a floating LCO2 terminal. They were awarded an Approval in Principle from ABS as companies across a broad range are using this week's Gastech conference in Singapore to position for the emerging new sectors including carbon transport.
ABS highlights the challenges in liquid carbon transport and storage noting that while there currently are over 100 gas carriers capable of carrying CO2, there are only a few pure LCO2 carriers in the world. While liquified CO2 is seen as the most promising state both for transport and injection for storage, ABS highlights it is also very challenging. ABS explains that because CO2 is carried at around -54.4 Celsius and 5.-7 bar pressure in a liquid state, one of the challenges is that it can rapidly move from the liquid state to the solid state when there is a drop in pressure. This they said can lead to the formation of dry ice, causing technical and safety challenges.
Another challenge for the transport is that LCO2 must be carried in cryogenic pressurized tanks. Current designs for the tanks are limited in size before the tanks become too heavy and too expensive, according to ABS.
ABS has awarded Approval in Principle (AIP) for Bumi Armada's pioneering design for a floating carbon storage and injection unit (FCSIU). The concept is a floating terminal capable of storing and injecting liquified carbon dioxide (LCO2) into depleted oil and gas fields or aquifers.
Bumi Armada's FCSIU concept is a novel approach that incorporates the ability to accept LCO2 deliveries in an offshore setting, the flexibility to manage LCO2 at low or medium pressure, the provision of LCO2 buffer storage, and the preparation of LCO2 for sequestration beneath the seabed. The FCSIU is designed to receive LCO2 from various sources, such as electricity generation, manufacturing, and construction, all industries that are viewed as difficult to decarbonize.
ABS notes that the AiP awarded is applicable to either a new build or a converted donor carrier, with smaller tanks to optimize the cargo space layout.
The FCSIU is the next step from Bumi Armada in building a comprehensive approach for carbon transport and storage. In June, the company announced it is exploring launching a joint venture with Navigator Holdings, the larger owner/operator of handysize liquified gas carriers. The JV agreement, which they hope to conclude by the end of the fourth quarter, seeks to design and implement a value chain of shuttle tankers for carbon capture.
Focusing on the UK market, they plan to launch a company Bluestreak CO2 Joint Venture. The approach would serve CO2 emitters without pipeline infrastructure to transfer their captured carbon emissions. Bluestreak seeks to supply the transport component taking emissions from a broad range of emitters and transferring it to storage locations.
The FCSIU would provide the next piece in the value chain being able to receive the CO2. It could be positioned at storage locations for the transfer, temporary storage, and injection of CO2 for sequestration.
Floating storage and transfer terminals are emerging as one of the new opportunities for the shipping and offshore industries to serve the CO2 market. In a competing project, Malaysian state oil company Petroliam Nasional Berhad (Petronas), is working in collaboration with the Shanghai Merchant Ship Design & Research Institute (SDARI) and Japan's Mitsui O.S.K. Lines on a similar floating storage unit. In June 2023, both DNV and ABS awarded AiPs for portions of this project, which includes both vessels for transport and the floating units for storage and inspection.
In new research released earlier this week, Rystad Entergy forecast that near-term 55 vessels will be needed by 2030 along with 48 terminals to handle the emerging carbon transport and storage market.