Bulker Departing Ukraine Collides with Russian Cargo Ship off Bulgaria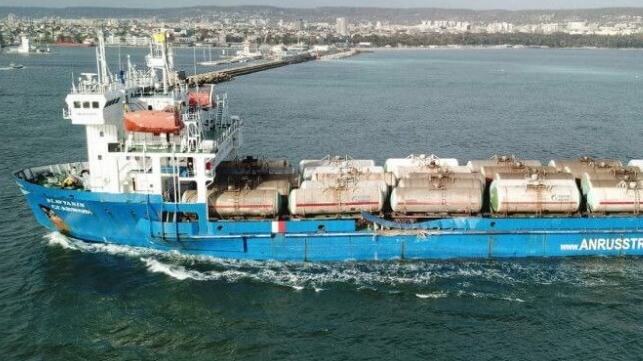 A Russian cargo ship and a dry bulk carrier collided off the coast of Bulgaria on November 8 and while no one was injured the circumstances of the incident remain unclear. The bulker continued on course to Turkey, while the Russian vessel returned to port reporting that it had taken on water in its ballast tanks.
The Ukrainian Energy Ministry reported the incident on its Telegram account and observers quickly noted that the Russian vessel was not following its normal course. It is unclear why the vessel was traveling north of its normal route between Varna, Bulgaria and the Russian Caucasus region.
The Slavyanin is a Ro/Ro cargo ship operating between Varna, Bulgaria and the Kavkaz area of Russia located between the Black Sea and the Sea of Azov. Registered in the Russian Federation, the vessel was built in 1984 and has been running for at least a decade on this route. She is approximately 492 feet in length and 6,580 dwt and is used to transport rail tankers loaded with LNG.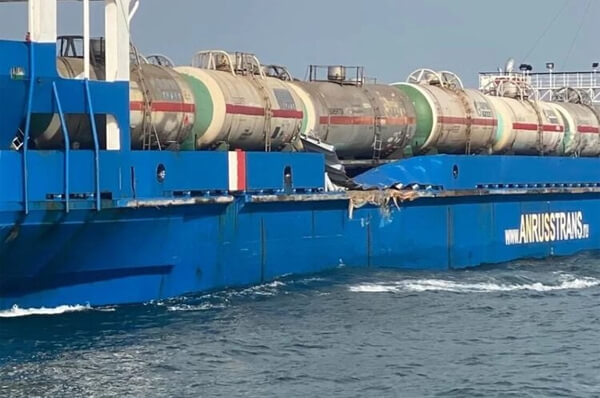 Damage reportedly from the collision is visible at the rail
The Russian ship had departed Varna on November 7 and the collision happened about 80 nautical miles to the northeast near the Bulgarian Cape Shabla, which would be north of her normal route. The incident was reported to have happened early on November 8 and the Slavyanin returned to Varna later the same day. Reports are that three of the ship's ballast tanks had flooded due to a hole in the hull and photos show a small deformation at the rail level as well. The flooding did not reach the engine room and there were no reports of a release of oil.
The other vessel was a Palau-registered bulker, New Rouf, a 6,000 dwt dry bulk carrier. She had departed Izmail, Ukraine, and was bound for Turkey and then on to Egypt. She appears to have continued and arrived at the Istanbul anchorage yesterday, November 9. The vessel is managed out of Romania.
Media reports from Romania are saying the Turkish authorities were asked to investigate the incident when the ship reached its anchorage.