Branson Sets Up Virgin Hyperloop One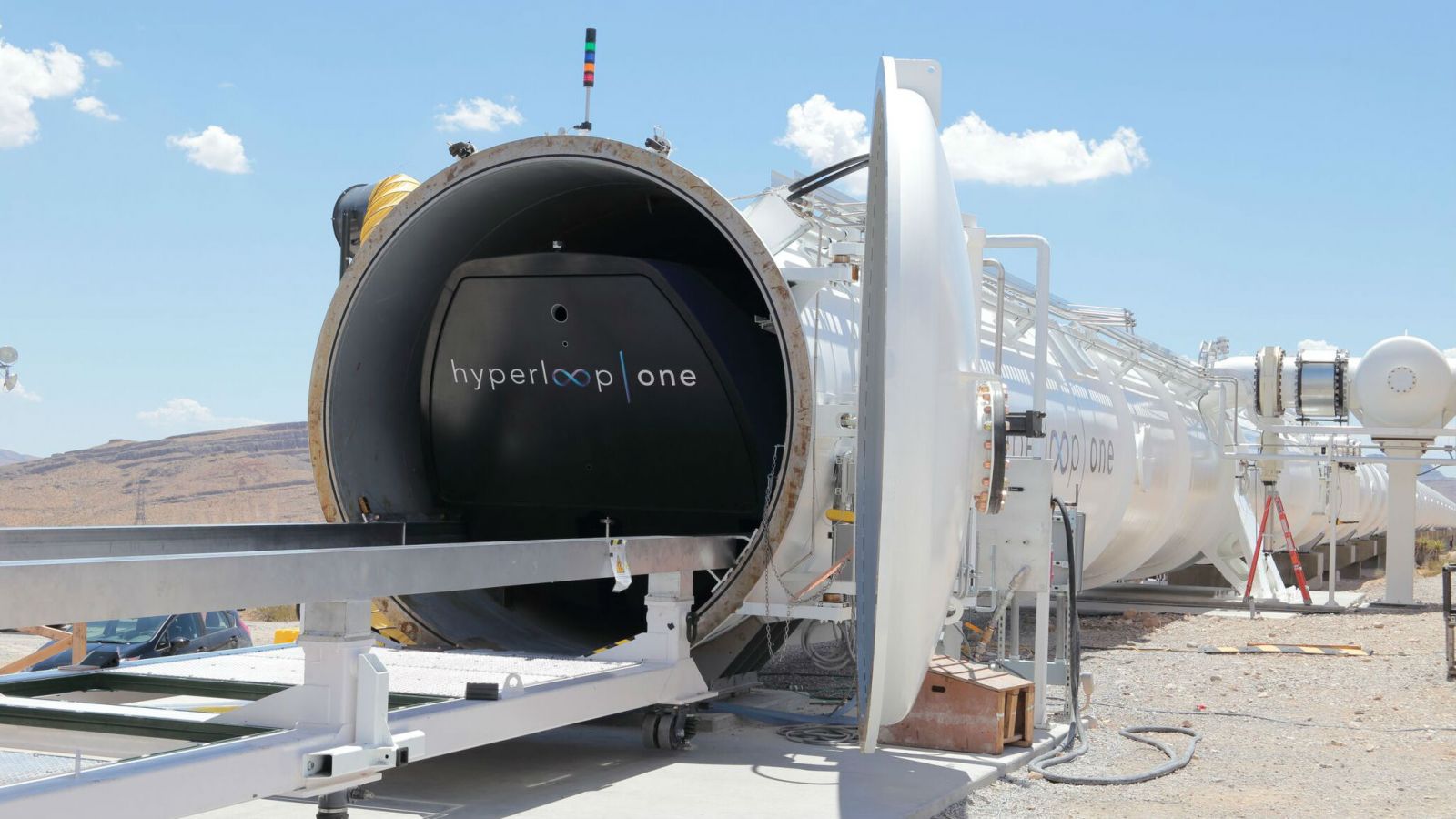 Entrepreneur Richard Branson and his Virgin Group have invested in Hyperloop One. Branson will join Hyperloop One's Board of Directors, with the partnership being named Virgin Hyperloop One.
The new company will focus on passenger and mixed-use cargo services. With Virgin Hyperloop One, passengers and cargo will be loaded into a pod, and accelerate gradually via electric propulsion through a low-pressure tube. The pod quickly lifts above the track using magnetic levitation and glides at airline speeds for long distances due to ultra-low aerodynamic drag.
Virgin Hyperloop One is working on projects in the Middle East, Europe, India, Canada, and the U.S.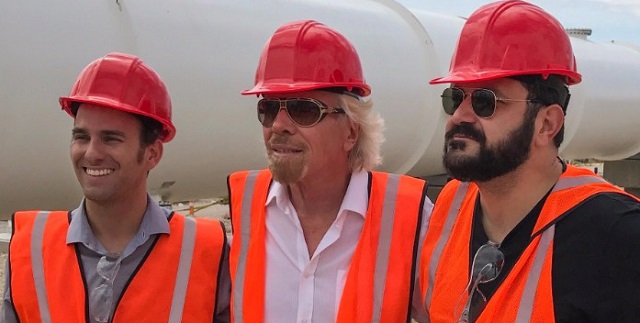 "Ever since our creation, Virgin has been known for disruption and investing in innovative companies," says Branson. "From our airlines to our trains to our spaceline, we have long been passionate about innovation in transport too, especially the development of technology that could transform people's lives. This is just the latest example. Importantly, Virgin Hyperloop One will be all-electric and the team is working on ensuing it is a responsible and sustainable form of transport too."
Hyperloop One was founded by Executive Chairman Shervin Pishevar and President of Engineering Josh Giegel, who previously worked at Virgin Galactic. "Working together, Virgin and Hyperloop One present a differentiated brand that's instantly recognizable around the world and lends tremendous credibility as we scale," said Rob Lloyd, CEO of Hyperloop One. "Virgin will not be the only operator. We will work with a variety of operators globally, as selected by customers."
The original hyperloop name originates from Elon Musk and SpaceX's white paper of August 2013. Hyperloop technology has been explicitly open-sourced and others have been encouraged to take the ideas and further develop them.
The technology for Hyperloop One is currently in the early stages of the commercialization after a successful first full scale test outside Las Vegas. The latest series of tests achieved record speeds in a tube depressurized down to the equivalent of air at 200,000 feet above sea level. All components of the system were successfully tested, including the highly efficient electric motor, advanced controls and power electronics, custom magnetic levitation and guidance, pod suspension and vacuum system.
The duration of the longest test has been 10.6 seconds, with the top speed of 192 mph (310 km/h, or 86 meters per second). The maximum distance traveled is 436 meters (1,430 feet), with a peak acceleration of 1.48 Gs – equal to zero to 60mph in 1.85 seconds.
In September, Hyperloop One announced the closing of its Series B-1 round of $85 million. This brings the total financing raised by Hyperloop One to $245 million since its founding in 2014. Investors include Caspian VC Partners as a part of Summa Group and OurCrowd.com.
Hyperloop One has been in detailed discussions for several months with a number of governments around the world and has already successfully completed feasibility studies in Dubai, the United Kingdom, Russia and the U.S. Additionally, discussions are underway with the governments of the Netherlands and Finland.
Following the success of the Hyperloop One Global Challenge, which identified promising new Hyperloop routes around the world, the company will work closely with the winners and finalists to determine the feasibility of their proposed routes. As a direct result of the Global Challenge, Hyperloop One and the Colorado Department of Transportation (CDOT), with support from AECOM, have announced a public-private partnership to begin a feasibility study in Colorado.
India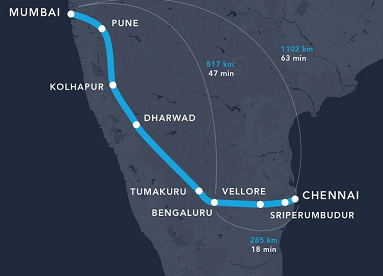 The Challenge also saw a proposal for a Mumbai - Chennai corridor proposed by Hyperloop India, a consortium of student volunteers from top engineering and business schools such as BITS Pilani, Indian School of Business and IIM Ahmedabad. The proposal enhances the value of one of the government's strategic corridors by creating a new super-metro network of 34 million people, an east-west freight link and an air transport super-hub.
Mumbai to Chennai is currently a multi-hour or even multi-day journey. Hyperloop would shrink that to 60 minutes, creating the largest contiguously connected urban area of people in the world. Linking two or more cities together in a matter of minutes creates "virtual" density and higher economic productivity. The potential east-west freight link would facilitate a new trade dynamic by reducing the freight transit time between the Arabian Sea and the Bay of Bengal from three days to less than three hours. The proposal also demonstrated a strong case for how Hyperloop could integrate with existing modes of transportation, providing first and last mile connectivity within each city along the route.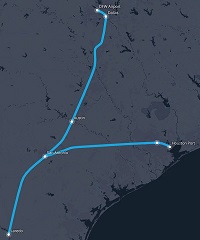 Dallas
A winning U.S. Dallas-Laredo-Houston proposal would create a system of cities that unify Texas' prominent urban centers and serve the many Texans commuting long distances every day. This route has the opportunity to reduce the state's carbon footprint and gridlock by connecting the communities of Dallas, Fort Worth, Austin, San Antonio, Houston, and Laredo.
Dallas - Houston: 789 km (490 miles), 46 mins
Dallas - Austin: 322 km (200 miles), 19 mins
Austin - San Antonio: 121 km (75 miles), 8 mins
San Antonio - Houston: 346 km (215 miles), 21 mins
Laredo - San Antonio: 242km (150 miles), 16 mins
Florida
A winning proposal for a Hyperloop link between Miami and Orlando would unite the state's tourism and economic centers, as well as ease the freight movement from the Port of Miami to the rest of the state. In addition, the corridor has the potential to extend further north into other states.
Miami - Orlando: 414 km (257 miles), 25 mins
Canada
Team HyperCan's winning proposal would connect Montreal, Ottawa, and Toronto and create a Canadian megaregion covering as much as a quarter of the country's population.
Toronto - Montreal: 640 km (398 miles), 39 mins
Toronto - Ottawa: 450 km (280 miles), 27 mins
Ottawa - Montreal: 190 km (118 miles), 12 mins