Biofuel Tanker Designed to Store Captured CO2 from Other Ships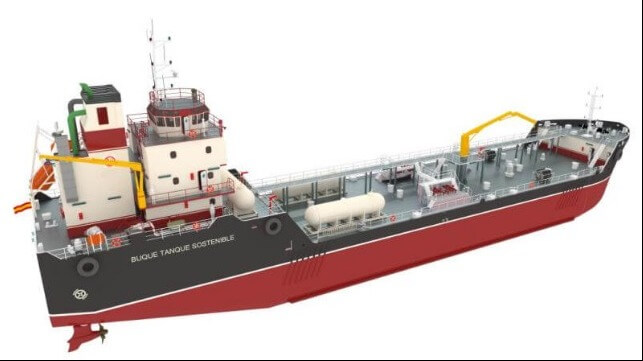 Spanish engineering and technology firm, Sener, reports it has completed the design of a new sustainable biofuel tanker that will also be capable of capturing CO2 from other vessels contributing to the efforts for maritime decarbonization. One of the challenges facing shipowners and operators that elect carbon capture from their exhaust is the means of storing and disposing of the CO2 after removing it from the exhaust emissions.
Sener reports that its new vessel has been designed to operate in compliance with the energy efficiency and emission reduction requirements of the International Maritime Organization. The design also includes different technical-economic configurations to help shipowners select the best alternative based on their priorities and needs, such as costs, ease of installation on board, or safety.
The new tanker design features a complete emission reduction and management system made up of a CO2 capture and storage system, a selective catalytic reduction (SCR) system to convert nitrogen oxides into diatomic nitrogen and water with help from a catalyst, and a sulfate cleaning system.
As part of the design, they are incorporating a capability to store the CO2 captured by other vessels. According to Senser, the application of carbon collectors to this model builds on its work in providing various engineering services and consulting in areas including the use of alternative fuels and biofuels and emissions cleaning technologies. They believe that by creating a capability to store and transport CO2, the design will help to promote CO2 capture efforts aboard in-service ships.
The tanker is designed for different propulsion alternatives ranging from conventional power to diesel-electric, or hybrid. It also incorporates different sulfate cleaning systems (open, closed, or mixed) in addition to the CO2 capture system.
The conceptual design they believe presents a multi-product supply vessel designed for the future of the industry. It can carry heavy fuel oil (HFO), very low sulfur fuel oil (VLSFO), biofuels, and marine gas oils (MGO), and while supplying fuel would also store the captured CO2 from the vessels.
They point to the importance of creating solutions to help the maritime sector achieve more energy efficient vessels and reduce its emissions to comply with the new requirements of the International Maritime Organization (IMO) and the European Union (EU). They believe this design will contribute to progress in decarbonization.