Benetton Under Fire for Ads Featuring Maritime Rescues
Italian fashion house United Colors of Benetton came under fire this week for repurposing two photos of maritime migrant rescue operations for an advertising campaign. The adapted images appeared in print in the Italian daily La Repubblica and in online form.
The first image depicts a crewmember with NGO rescue group SOS Méditerranée distributing life vests to maritime migrants in an overloaded raft, with the Benetton logo overlaid at bottom right. The NGO said that the image was its own, taken during an operation on June 9, and added that it did not consent to the commercial use of its photos.
The photographer credited for the image began working with SOS Méditerranée this month, according to his LinkedIn profile. Benetton told Marjorie van Elven of industry outlet FashionUnited that it had obtained the image from the photographer.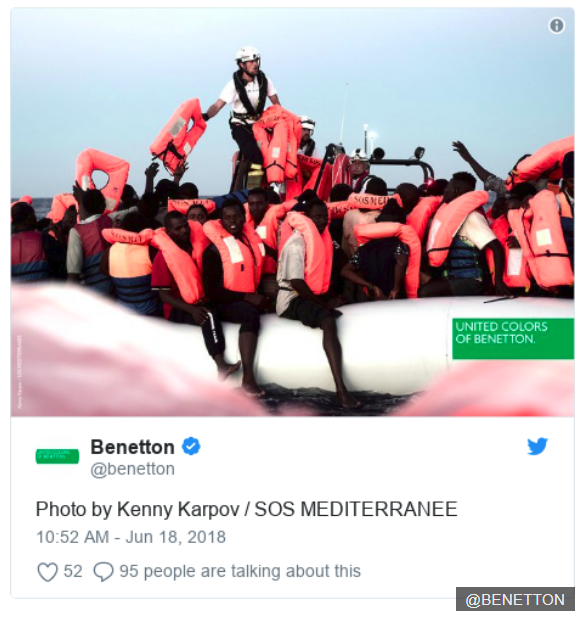 The SOS Méditerranée image as adapted by Benetton (SOS Méditerranée / Kenny Karpov / Benetton / social media)
"SOS Méditerranée fully dissociates itself from this campaign, which displays a picture taken while our teams were rescuing people in distress at sea," the rescue NGO said in a statement. "The human tragedy at stake in the Mediterranean must never be used for any commercial purposes."
Italian Interior Minister Matteo Salvini, the hard-right leader who recently rejected SOS Méditerranée's request to bring the migrants depicted in the image to an Italian port, also expressed his disapproval of Benetton's ad campaign. "Am I the only one to find this shabby?" he wrote in a social media post.
The Benetton-branded version of the SOS Méditerranée photo has been removed from Benetton's Twitter account. A similar image taken by a news agency photographer remains posted.
EU debates question of migrants' destination
The controversy comes as the leaders of nine EU nations prepare to meet in Brussels for "informal talks" on Europe's ongoing migration crisis. Italy and Greece receive the majority of EU maritime migrant arrivals, as they are closest to the main points of departure, and their leaders have called for other EU nations to take on a larger share of the burden of hosting asylum applicants. Italy's newly-elected government, led by the anti-immigration League party, has banned arrivals aboard foreign-flag vessels and encouraged rescue ships to take passengers to other countries.
The policies to be discussed at Sunday's meeting are likely to include the expansion of Frontex, the EU's new border agency, and new penalties and border controls to deter asylum-seekers from traveling from one EU nation to another. According to a draft statement, the group will consider measures to reduce "secondary movements" by cutting down on "unlawful crossing of internal borders between Member States by irregular migrants and asylum seekers and by ensuring swift readmissions by the competent Member State."
The proposed measures are widely seen as an effort by German chancellor Angela Merkel to preserve the support of Germany's Christian Social Union (CSU) party, her coalition partner in government. Horst Seehofer, the leader of the CSU and Germany's interior minister, has promised to block migrants at Germany's Schengen-zone borders if the EU cannot come up with its own plan. "I would immediately order the police that people who either have prohibition of entry or prohibition of stay should be immediately turned away at the border," he warned on Monday.