Barges Break Free and Are Wedged Against Ohio River Dam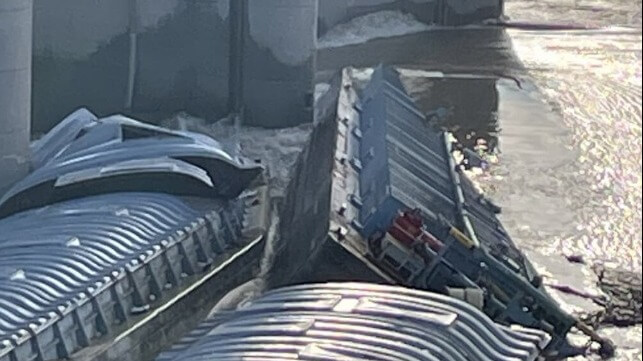 Emergency response teams from the U.S. Coast Guard along with state and local officials are responding to a tug and barge accident on the Ohio River near Louisville, Kentucky that is disrupting river traffic. After breaking loose, several of the barges including one transporting toxic methanol have become wedged against a dam structure on the river.
The Kentucky Energy and Environment Cabinet is reporting that the incident began around 2:00 a.m. on March 28 when a tugboat towing 11 barges made contact with the structure at the entrance to the Portland Canal near the McAlpine Lock and Dam which is at mile 606.8 on the Ohio River. They report that 10 barges broke free of the tow as a result of the allision while one remained attached to the tug.
????#BREAKING: Multiple Emergency Response Teams has been Deployed to Address Submerged Barge Carrying 1,400 Tons of Toxic Methanol in the Ohio River

????#Louisville | #Kentucky
?A major incident has taken place in the Ohio River near Louisville, Kentucky, requiring multiple… pic.twitter.com/swXQD8c5Zk

— R A W S A L E R T S (@rawsalerts) March 29, 2023
The barges drifted along the river with three becoming wedged up against the dam structure and a pier for the Louisville and Indiana bridge. One of the barges, the one loaded with the methanol cargo, has become partially submerged and according to the U.S. Army Corps of Engineers in Louisville, which is responsible for the lock, the barge is now partially submerged and taking on water.
Seven of the barges in the tow were loaded with corn and soy, while one has 1,400 metric tons of methanol and the remaining three were empty. City and state officials are emphasizing that there has been no leak and that the local water remains safe at this time. However, they are also cautioning about the toxic nature of methanol and if there should be a leak, the methanol could explode if ignited.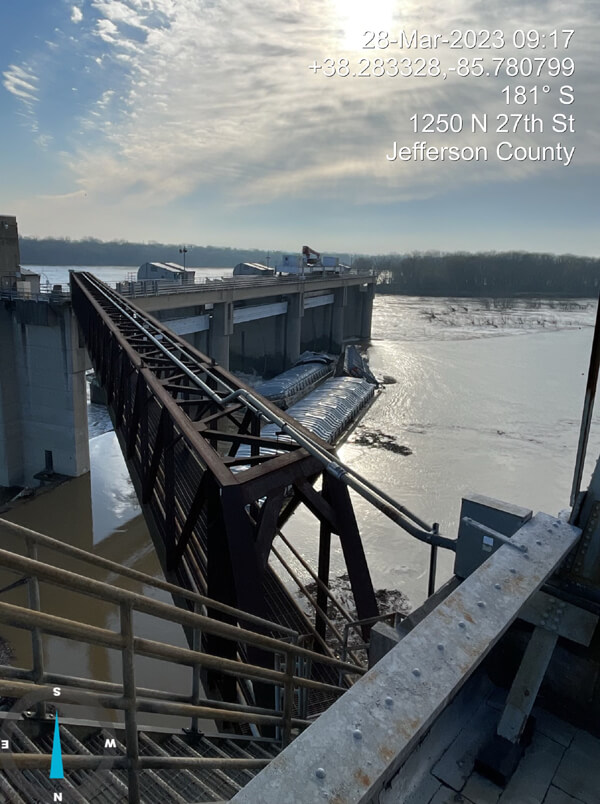 "We had to shut down traffic. There's going to be salvage operations, and it's going to be dangerous," Chris Davis, a spokesperson for the U.S. Coast Guard told reporters.
The Army Corps also reports that the locks at the McAlpin Locks and Dam are closed to traffic. They are saying that the locks will remain closed until the barges pinned up against the dam are stabilized.
The U.S. Coast Guard, Army Corps, as well as organizations from Kentucky and Louisville, are participating in a Unified Command structure for the salvage operation. They are reporting that the seven barges floating free on the river were recovered with the focus being on the one that is partially submerged and the other two that were damaged in the pile up and remain up against the structures.