Bad Weather Sends Greenpeace Home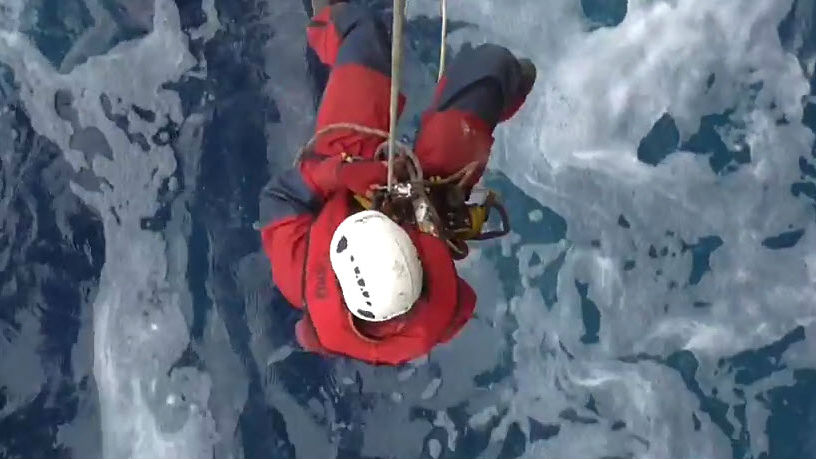 Six Greenpeace activists rappelled down from an oil rig in the Pacific Ocean on Saturday after spending six days living on the structure to protest against drilling in the Arctic, the environmental organization said.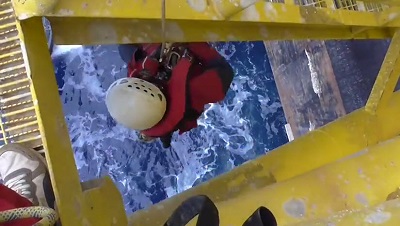 The multinational team climbed on board Polar Pioneer, an oil rig leased by Royal Dutch Shell that is bound for the Arctic, on Monday as it was being transported by a heavy-lift vessel about 750 miles (1,210 km) northwest of Hawaii.
Worsening weather conditions that were expected to bring swells of up to seven meters led the six activists to leave the oil rig on Saturday.
They climbed down into inflatable boats and returned to the Greenpeace ship Esperanza, which had brought the activists out into the Pacific Ocean for the protest.
Shell said the protesters had jeopardized their safety and that of the crew assigned to the oil rig.
The company had filed a complaint in federal court in Alaska seeking an order to remove the activists. On Saturday evening, a judge granted a restraining order against Greenpeace to prevent a repeat of the protest, Royal Dutch Shell spokeswoman Kelly op de Weegh said in an email.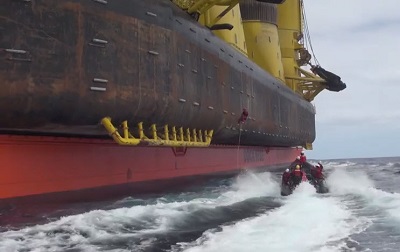 "We're always open to an honest discussion about the challenges and benefits of exploring for energy in the Arctic, but we cannot condone Greenpeace's unlawful and unsafe tactics," she said.
Greenpeace said its team of activists did not interfere with the crew transporting the oil rig. The organization had earlier said on its website that the activists had enough supplies to last for several days on the rig.
Preparing for the drilling season
The Polar Pioneer, which is being transported on a 712 feet (217 meter) long heavy-lift vessel called Blue Marlin, is one of two drilling vessels heading towards the Arctic for Shell this year.
The second is the Noble Discoverer. In December 2014, Noble Drilling, one of Shell's biggest Arctic sub-contractors and owner of the Noble Discoverer, pleaded guilty to committing eight felonies in connection with Shell's failed attempts to drill in the Arctic Ocean in 2012.
Both the drilling vessels are crossing the Pacific and are expected to arrive in Seattle before heading to the Chukchi Sea. Shell intends to use the port of Seattle as a base for the company's Arctic fleet, but the company is facing growing opposition from a range of Seattle-based groups.
More to come
"I might be climbing off this oil rig, but this is merely a transition into the next step of saving the Arctic," American Aliyah Field, one of the six activists, said in a statement. "I can't wait to join the millions of voices, the volunteers in Seattle, and all Americans who believe we deserve better, safer, cleaner forms of energy. My voice cannot be silenced, and neither can the millions of others taking a stand against Shell."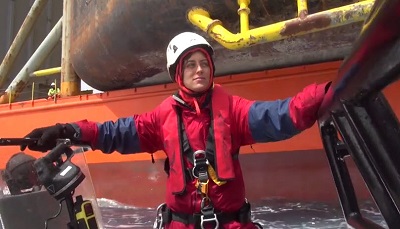 Annie Leonard, Executive Director of Greenpeace USA, said: "I am so inspired and impressed by the volunteers' decision to climb Shell's drill rig. I hope everyone who sees what they did is inspired to take action in their own way, to help save the Arctic.
"It's astounding that Shell seems to think it has the right to jeopardize our environment and our economy, without being accountable to society. I thank the climbers for being society's eyes and ears on Shell's rig, letting them know that millions of us are watching their every move, because there is simply no such a thing as 'safe' drilling in the Arctic."
Sustainability at Shell
In releasing its Sustainability Report for 2014 on Friday, Shell issued a statement saying it continues to contribute to a more sustainable energy future: developing lower-carbon energy solutions that can be deployed now – such as natural gas, biofuels and carbon capture and storage – and investing in emerging opportunities, including hydrogen-based fuels.
In his introduction to the Sustainability Report, Shell's Chief Executive Officer Ben van Beurden said: "Today, an energy transition is taking place: a slow but steady shift from a predominantly carbon-based system towards one of net-zero carbon emissions. At the same time, there are more than 1.2 billion people globally who still lack access to modern energy.
"For these people, the availability of affordable energy is a basic need. Energy can help people move out of poverty, support businesses and grow local economies. This poses a challenge for policymakers and others, including the oil and gas sector: how to provide people with affordable energy while reducing carbon emissions.
"The world needs to meet the energy demands of a global population projected to reach nine billion by 2050. This will require continued growth in renewables and improvements in energy efficiency. As we work towards a lower-carbon future it will also be necessary to rely on a variety of energy sources. This includes fossil fuels with technologies that reduce emissions such as carbon capture and storage (CCS).
"There is no simple answer or single approach to this energy transition."
Operating responsibly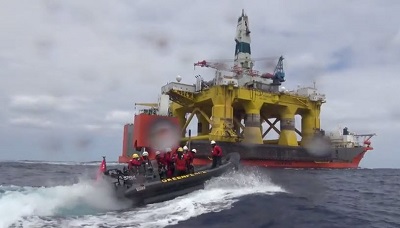 van Beurden says that Shell has long been known for its strong focus on safety with the goal of no harm and no leaks in its operations. "Respect for people, their safety, their communities and the environment remain top priorities," he said.
"At every stage of our operations we seek to reduce our impact on the environment and listen to the communities with which we work. This helps us to understand the indirect effects of our operations, both positive and negative, and to contribute where possible to the communities' needs. The Arctic is a case in point, we will only go ahead with exploration when we are fully prepared and ready to do this responsibly."