Autonomous Boats Tackle Fisheries Research
The National Oceanic and Atmospheric Association (NOAA) and drone builder Saildrone are partnering on a West Coast first: a unified survey of fish stocks using both autonomous drones and a surface vessel along the same trackline.
Five Saildrones - self-navigating, autonomous, sail-driven boats measuring 23 feet in length - will follow the track of the NOAA research vessel Reuben Lasker from the northern tip of Vancouver Island to the Mexican border. While the Lasker surveys sardines, anchovies and other small species, four of the drones will survey hake along the same trackline. A fifth drone will work ahead of the Lasker and evaluate alternative methods of fish stock assessment in near-shore areas.
The first two drones launched on June 26 from Neah Bay, Washington, and will navigate northwards to meet the Lasker off British Columbia. The remaining three will depart Saildrones' facility in Alameda, and will work with the Lasker off the U.S. West Coast. Separately, another small flotilla of Saildrones will be setting off from Dutch Harbor later this year, bound for research missions the Bering Sea and the Arctic.
Saildrones at work in the Chukchi Sea, three months into their deployment, Sept. 2017 (USCG)
Despite their compact size - they have a displacement of just 0.5 tonnes - the Saildrones are not lightweights. The design has enough endurance and resilience to operate in open ocean for months, over thousands of nautical miles, all the while relaying data back to shore with a satellite uplink. They carry more than 200 pounds of sensors for a wide array of purposes, all powered by solar panels.
The Saildrone has been deployed operationally in the Bering Sea, the Arctic, the tropical Pacific and beyond, and Saildrones founder Richard Jenkins says that he plans a circumnavigation voyage in the near future. The drones are now available to researchers at a day rate in the range of $2,500 (vs. $30,000 or more for a research vessel).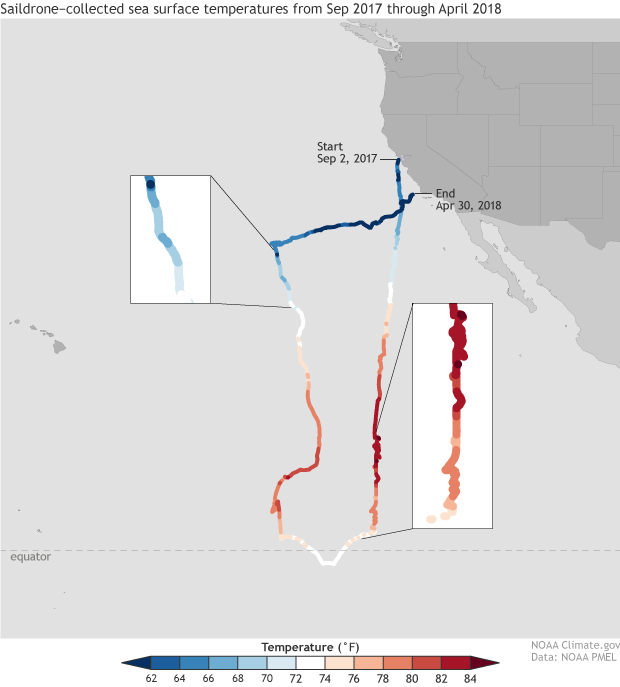 Saildrone trackline, California to the Equator and back (NOAA)