Australia's Antarctic Icebreaker Afloat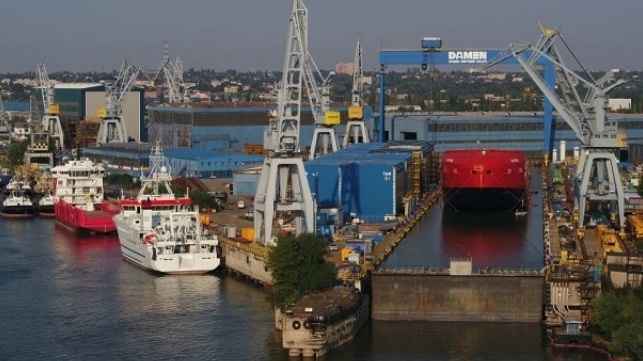 Australia's new Antarctic icebreaker, RSV Nuyina, was floated in wet dock on Saturday at Damen Shipyards in Romania.
It took two days to pump enough water from the nearby river into the docks, raising the water level six meters (20 feet) and floating the 10,751 ton ship about 30 centimeters above the dock floor. The ship is 25.6 meters (84 feet) wide and the dry dock is 35 meters (115 feet) wide. There's about 10 meters (33 feet) of water in the wet dock, which will be enough to support the 16,000 ton weight of the ship when she's completed.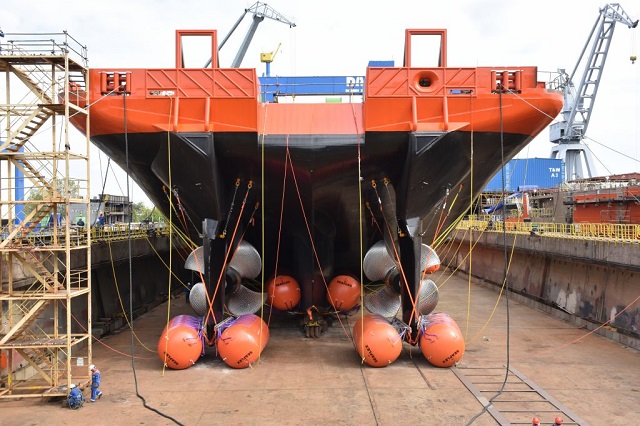 Construction on the ship has reached deck four (the science deck), and the engines, generators, shaftlines, propellers and rudders are all in place. A number of steel blocks that will form the superstructure have already been constructed and are ready to be lifted onto the ship in the wet dock.
When complete the ship will rise to 10 decks, at navigation bridge level, measuring 50.2 meters (165 feet) from the keel to the top of the weather radar on the main mast.
RSV Nuyina, is due to arrive in Hobart in 2020 and make her maiden voyage to Antarctica in 2020-21. The ship will be the main lifeline to Australia's three Antarctic research stations and its sub-Antarctic station on Macquarie Island and will support Australia's leadership role in Antarctic and Southern Ocean scientific research. The ship is designed to be flexible enough to cope with future research and operational demands during her expected 30 year lifetime.
The RSV Nuyina is the only ship in the world to have a watertight room or 'wet well' to process seawater for krill and other fragile marine organisms, at up to 1,800 liters per minute. Other state-of-the-art scientific equipment includes acoustic instruments to map and visualize the sea floor and organisms in the water column, and instruments to measure atmospheric gases, cloud properties, wave heights and ice conditions.
She is designed for helicopter operations in up to sea state 3 and the deployment of watercraft in up to sea state 4. Her cruising speed is 12 knots.