Australia Docks its Largest Containership as CMA CGM Expands Route Capacity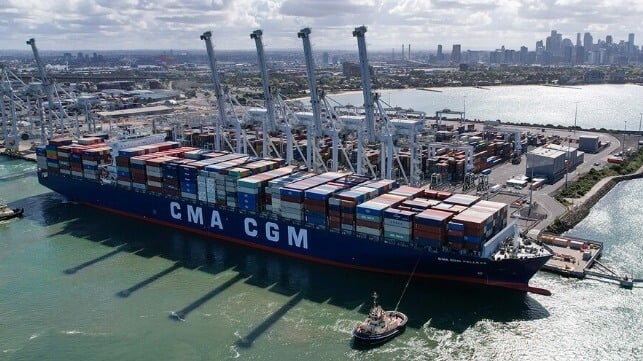 The largest containership to moor in Australia and be deployed to the country is currently completing her maiden circuit through the country. While it is not a new vessel, it demonstrates the growth in trade for the country and the broader trend in the shipping industry for carriers employing larger ships on routes to improve operating efficiencies.
The CMA CGM Pelleas, registered in Malta, is currently in Melbourne, Australia as her second port stop on a circuit that carriers her to three Australian ports. The 120,853 dwt container ship was placed on the route sailing between Xiamen, Shanghai, and Ningo in China, Kaohsiung, Taiwan, and the ports of Botany Bay (Sydney), Melbourne, and Brisbane in Australia.
At a length of 1,148 feet and with a capacity of 9,661 TEU she becomes the largest containership to ever moor in Australia according to the operators of the Victoria International Container Terminal. She is not a new ship having been in service for 15 years, but the deployment of the ship built in 2008 demonstrates CMA CGM's continuing efforts to upsize vessels on traditionally second-tier routes. The French carrier has also sent largest ships for example along the U.S. East Coast at ports ranging from New York – New Jersey to Miami.
"There is a global trend by shipping lines toward the use of larger ships, which are more efficient due to their carrying capacity," says Bruno Porchietto, CEO of Victoria International Container Terminals (VICT). He predicts that super-sized vessels like the CMA CGM Pelleas are likely to become more common for the port of Melbourne.
Executives from the Port of Melbourne and VICT highlight that they are responding to the trends and preparing the port for this growth. By the end of the year, Porchietto says the port will be capable of docking two vessels of this size or even larger simultaneously.
"Because our operations sit at the entrance to the port, our facility can easily accommodate these larger vessels that are unable to sail further down into Melbourne's Yarra River due to length and height restrictions," explains Porchietto.
The port has recently received two new quay cranes, which are also the largest in Australia. ICTSI, the parent company of VICT is investing US$151 million to expand VICT's capacity up to 1.25 million TEUs when the project is completed in late 2023.