Arctic Cruise Operators Target Plastic Use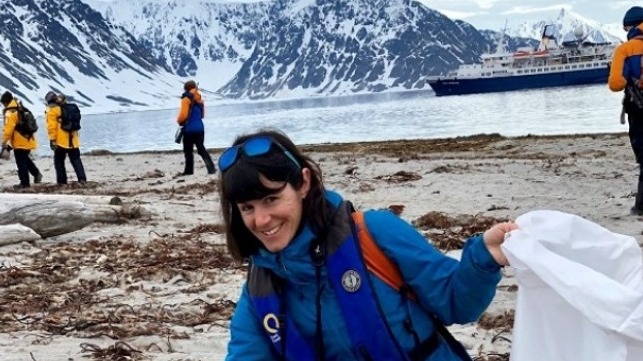 This summer, the Association of Arctic Expedition Cruise Operators (AECO) is working with cruise operators to identify how the expedition cruise industry can drastically reduce the use of disposable plastics on ships. AECO will also continue to engage thousands of cruise passengers in beach cleanups in the Arctic.
Environmental agent Sarah Auffret was hired by AECO in May to lead the association's efforts to combat marine plastic pollution. She has visited 16 expedition cruise vessels sailing in Svalbard to analyze and later share best practices on reducing plastic consumption. Many of the ships have already taken several steps to cut back on disposable products including providing reusable drinking bottles, installing water dispensers and replacing plastic straws and individually wrapped products with sustainable alternatives. Operators are also asking suppliers to deliver goods in more sustainable packaging.
For example, AECO member Hurtigruten has banned single-use plastic. Starting this month, everything from plastic straws and cups, coffee lids and plastic bags will be removed from all Hurtigruten ships. The goal is to become the world's first plastic free shipping company. Plastic straws are replaced by metal straws, stir pins will no longer be used – the same with plastic glasses wrapped in plastic, plastic cutlery, plastic bags, plastic lids on coffee cups, plastic toothpicks, plastic aprons, single-use packaging of butter and all other single-use plastic items. In addition to the internal plastic ban, Hurtigruten challenges all its suppliers to reduce and cut the use of plastic.
In addition to cutting the plastic footprint of ships, AECO's members are continuing their efforts to clean Arctic beaches during landings. In Svalbard alone, expedition ships pick up several tons of beach litter each summer. AECO launched new cleanup guidelines earlier this month, and Auffret says that, being exposed to the natural wonders of the Arctic, passengers are very receptive to onboard educational programs.
"After you've visited a remote Arctic beach and helped pick up litter that has been brought there by ocean currents, it's a lot easier to understand why it's necessary to cut back on the use of disposable products. Our hope is that passengers who travel with our members will be inspired to make more sustainable choices when they return from their voyage and continue taking part in cleanups all over the world," she says.
15 metric tons of plastic ends in the world oceans every minute of the day. If the trend continues, this number will double in the next 10 years. This means that by 2050 there is likely to be more plastic than fish in the oceans.
AECO is working with U.N. Environment to combat marine plastic pollution as part of the Clean Seas campaign, with financing from the Svalbard Environmental Protection Fund and the Norwegian Environment Agency. AECO's Clean Seas initiative is also accepting donations through 1% for the Planet, a global network of businesses, nonprofits and individuals working together for a healthy planet.