Archaeologists Locate Trove of Ancient Shipwrecks in Aegean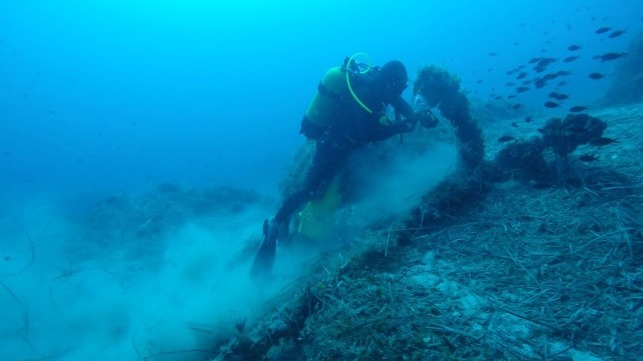 An international team of archaeologists has uncovered a trove of shipwreck sites off Fourni Island, a sprawling pinwheel of peninsulas, islets and bays in the Aegean Sea. The wrecks date back as far as the 4th century B.C. and as recently as the 19th century A.D.
"I would call it, probably, one of the top archaeological discoveries of the century in that we now have a new story to tell of a navigational route that connected the ancient Mediterranean," said Dr. Peter Campbell of the RPM Nautical Foundation, speaking to Reuters.
The five newly-found wrecks all lie at shallow depths between 30-130 feet, and their proximity to the surface means that they have been visited by looters or damaged by fishing nets, according to the team. All were initially discovered by local divers and fishermen, who reported them to researchers.
The wrecks from Greek and Roman periods carried amphorae for liquid food cargoes. Divers also found several small terracotta lamps labeled with the names of their makers.
The discovery adds to a growing collection of known wreck sites off Fourni, which sat at the center of ancient trading routes between the Black Sea, North Africa, Anatolia and Greece. 53 other unlucky vessels have been found on the bottom since 2015, and the search continues. The large number may be attributed to Fourni's narrow waterways, rocky cliffs and frequent foul weather - a risky combination for wooden sailing vessels without engines or radar.
The research team says that almost all of the ships around Fourni carried amphorae, which vary in shape, size and style depending upon the regin of origin and the goods carried. These clay containers yield important clues about the vessels' origins, trading routes and cargoes.