Antarctic Winter Sea Ice Extent Hits Record Low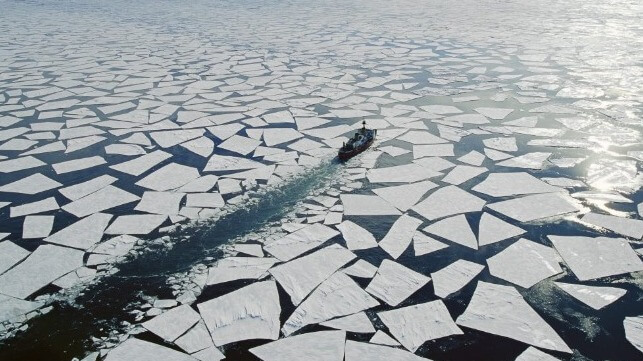 Antarctic sea ice cover extent has fallen to a new record low this year. According to new satellite data released by the US National Snow and Ice Data Center (NSIDC) at the University of Colorado Boulder, sea ice in the Antarctic reached an annual maximum extent of 6.55 million square miles as of September 10, the lowest maximum extent ever seen since satellite records began in 1979.
This year's maximum is 398,000 square miles below the previous record low, set in 1986. It is also 676,000 square miles below the 1981-2010 average Antarctic maximum extent. However, NSIDC noted that this data is preliminary, with the full 2023 annual analysis of the Antarctic conditions set to be released in early October.
Some of the regions that had markedly low ice cover included areas north of Queen Maud Land and west of the Antarctic Peninsula.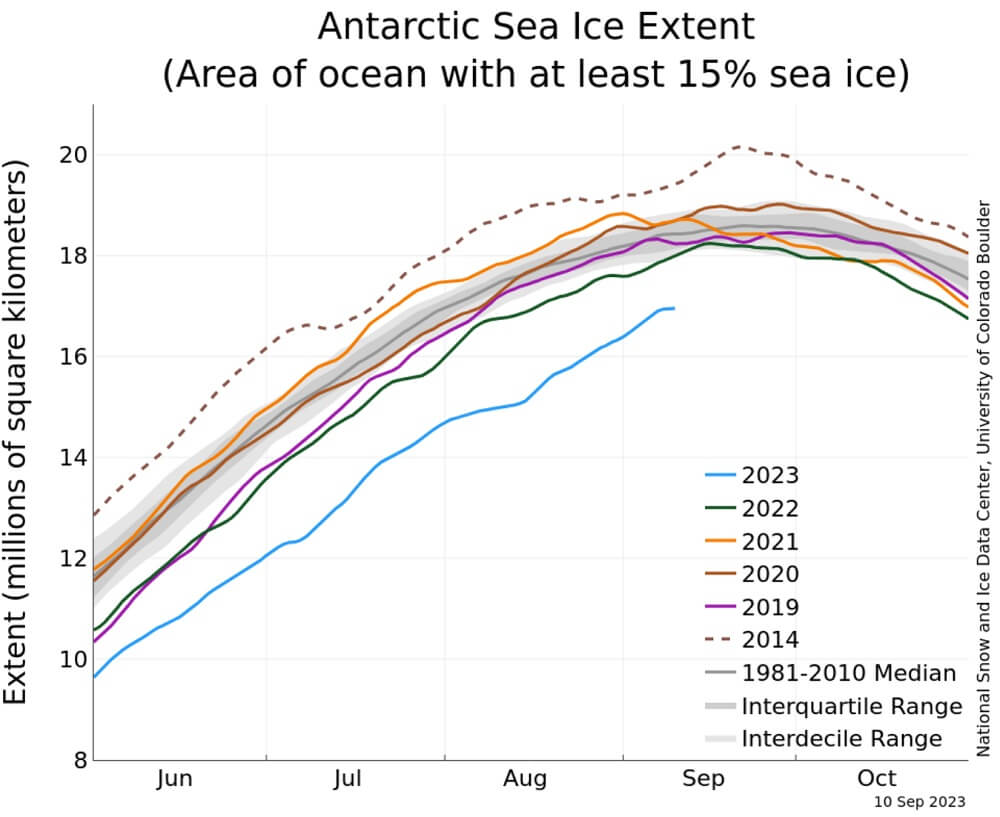 Antarctic sea ice extent in 2023 (blue line) has been consistently below all other years since recordkeeping began (NSIDC/NASA)
Antarctic sea ice cover reaches its maximum extent each year in September, as the winter season in the region starts in March and runs until October. Although annual variations in the Antarctic sea ice cover are normal, scientists are concerned over the continued decline, which portends a long-term evolution in ice cover patterns in the region.
Commenting on the NSIDC study, the World Meteorological Organization (WMO) said the absence of Antarctic sea ice could be associated with unseasonably warm sea-surface temperature across the Southern Ocean. Another factor could be warmer atmospheric surface temperature over much of wider East Antarctica.
WMO noted that its Global Cryosphere Watch is monitoring whether these recorded changes are part of the normal variability within the frozen continent.
"If the sea-ice coverage that is dramatically lower than usual continues, more of Antarctica's coastline will be exposed to ocean waves, the effects of which are not yet clear," said NSIDC.
Preliminary data from the British Antarctic Survey shows that Emperor penguin colonies experienced an unprecedented breeding failure in a region in the central and eastern Bellingshausen Sea - a region of the Antarctic which experienced total sea ice loss in 2022.
Meanwhile, NSIDC also released summer ice-coverage measurements for the opposite pole, the Arctic. Summer in the Arctic runs from June to September; this year, Arctic sea ice reached its minimum on September 19 and is now growing towards its winter peak.
NSIDC estimates that the sea ice covered just 1.6 million square miles of the Arctic Ocean. This represents the sixth lowest level in the nearly 45-year satellite record.
This has come with a silver lining for countries such as Russia, which is making significant investments to introduce year-round shipping operations in the Arctic.