Anglo American Begins Sailing its First Large, LNG Dual-Fueled Bulker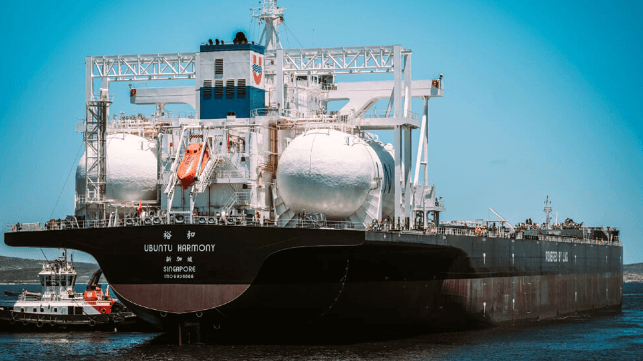 Global mining giant Anglo American is kicking off operations with the first of its new large, LNG dual-fueled bulkers which were recently added to its charter fleet. The new vessel, Ubuntu Harmony, is one of two recently delivered by their Chinese shipbuilders and is part of a new generation of more environmentally conscious, large bulk carriers.
The new vessel bunkered with LNG in Singapore and then proceeded to South Africa to load its first cargo of iron ore from Anglo America's Kumba operations. She departed South Africa on January 22 on her first voyage. She is heading to China where she is expected to arrive in about a month's time. Her sister ship Ubuntu Equality also recently bunkered in Singapore and now is making its way to South Africa where she will arrive at the end of January to begin service.
The Ubuntu Harmony is a 190,000 dwt bulk carrier designed to be larger than, but as flexible as, a conventional Capesize vessel. She measures 938 feet in length. Owned by U-Ming Marine Transport and flagged in Singapore, the vessel also became the first LNG dual-fueled bulker on the country's register when it was delivered by Shanghai Waigaoqiao Shipbuilding in December 2022.
Along with her sister ship, the vessels were both handed over last month and immediately began 10-year charters to Anglo American. The ships are fitted with MAN Energy Solutions' high-pressure ME-GI engines which are designed to reduce methane slip and are outfitted with two C-type LNG fuel tanks, which the shipbuilder notes provide a range of 20,000 nautical miles. This will enable the vessel to complete two round-trip routes from China to Australia or one round-trip route from China to Brazil before refueling.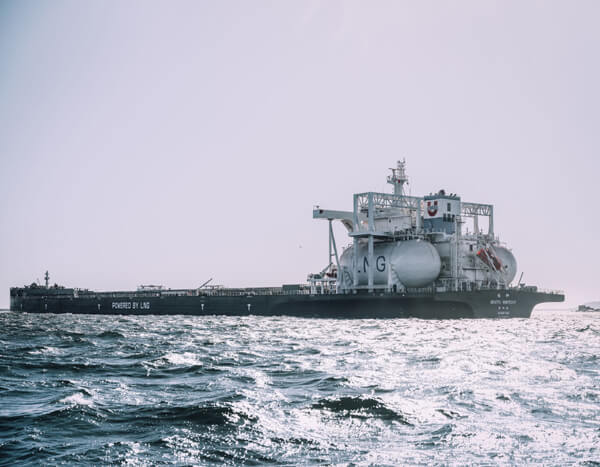 The new bulker recently departed South Africa on its first trip loaded with iron ore bound for China (Anglo American)
"We are proud to see the Ubuntu Harmony begin its voyage transporting future-enabling products from our mines to our customers around the world," said Peter Whitcutt, CEO of Anglo American's Marketing business. "This milestone cements our vision to be a leader in low carbon shipping, a natural extension of our commitment to achieve carbon neutrality across our operations by 2040."
The vessel is the first of ten LNG dual-fueled new-build ships that Anglo American will introduce to its chartered fleet during 2023 and 2024. Anglo American expects the vessels will deliver an estimated 35 percent reduction in CO2 emissions compared to ships fueled by conventional marine oil. The Ubuntu fleet is a key component of Anglo American's ambition to achieve carbon-neutrality for its controlled ocean freight by 2040. The company's interim target is to reduce emissions from its ocean shipping activities by 30 percent by 2030.