Amphib USS Tripoli Finishes Final Voyage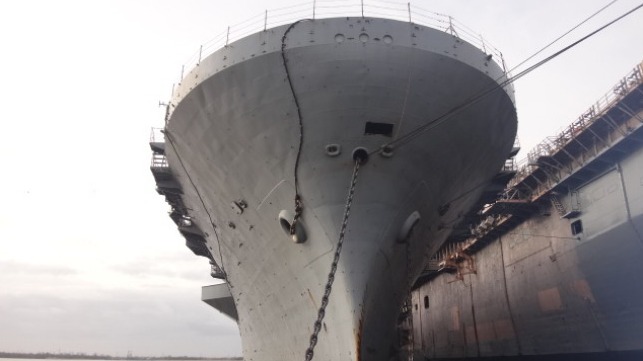 The former USS Tripoli, the last remaining Iwo Jima-class amphib, has completed her final voyage to Brownsville, Texas, where she will be dismantled at the International Shipbreaking yard.
USS Tripoli (LPH-10) was commissioned in July 1966, just as the U.S. was deepening its involvement in the Vietnam War. She arrived off Vietnam ten months later, and her embarked Marine Corps units were immediately engaged in the fight. She served three tours between 1967 and 1974, acting as a platform for helicopter-borne operations, amphibious assault, minesweeping efforts and troop transport to and from the combat zone.
In the 1990s, Tripoli was stationed in the Persian Gulf for the run-up to Operation Desert Storm, and she participated in extensive and complex minesweeping efforts to remove Iraqi mines. She was damaged by a mine blast in February 1991, and suffered a large hole on her starboard side. She also launched the first landing of Marine Corps forces during the 1992 intervention in Somalia. Her distinguished service earned her 19 awards, including three Combat Action Ribbons and a National Defense Service Medal.
USS Tripoli was decomissioned in 1995, and she was laid up at Mare Island Naval Shipyard in California for the next decade. In 2006, the Navy towed her to Pearl Harbor, where she was fitted out as a ballistic missile target launch platform. In this role, she supported testing for the THAAD ballistic missile defense program at the Pacific Missile Range Facility. In 2015, she was towed to the MARAD reserve fleet anchorage in Beaumont, Texas, and designated for disposal.
"The USS Tripoli has significant sentimental meaning to the men and women who served our country and spent a part of their lives with her. She will be recycled in a safe, respectful and environmentally responsible manner," said International Shipbreaking senior manager Chris Green.
The Tripoli is now moored near the former carrier USS Independence, which is currently being recycled. Work on the Tripoli has begun, and is expected to take about one year. Artifacts from her demolition may be found at International Shipbreaking's auction site.
The USS Tripoli bears the name of an early U.S. military anti-piracy action, the Battle of Derna. In 1805, in response to repeated attacks on American merchant shipping, a small Marine Corps detachment and a group of mercenaries successfully attacked the Barbary States port of Derna (now in eastern Libya). The fight was America's first overseas land battle, and it is memorialized in the Marine Corps' official hymn.
The second USS Tripoli, LHA-7, is a newly-launched America-class amphib based on the design of the Wasp-class. Like the first USS Tripoli, the future LHA-7 lacks a well-deck, and will deploy amphibious assault forces via aircraft.