Allseas Completes TurkStream's Pipeline Sections
On Monday, Turkish President Recep Tayyip Erdogan and Russian President Vladimir Putin met in Istanbul to give the order for the final joint of the TurkStream pipeline to be welded into place. The pipelaying / decommissioning vessel Pioneering Spirit has now finished the subsea portions of the twin pipeline, one month ahead of schedule.
According to GazProm, the pipeline's shoreside infrastructure will be completed and the line will enter into operation by the end of next year. It will have enough capacity to carry 31.5 billion cubic meters of gas from Russia to Turkey and southeastern Europe every year.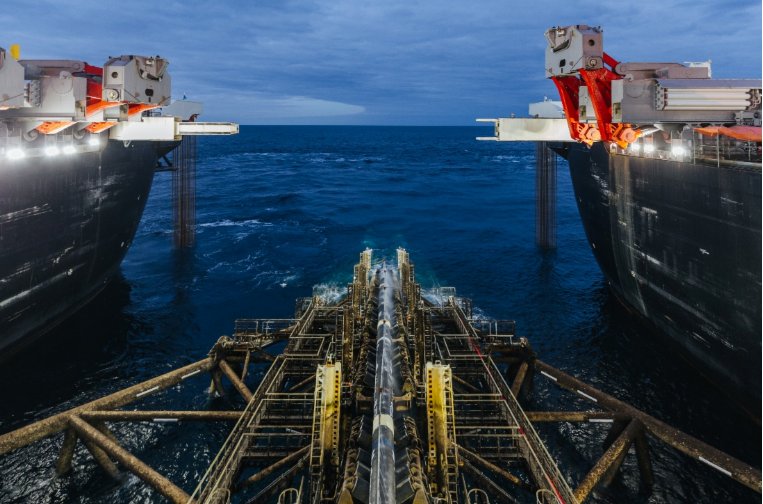 Turkey's demand for natural gas is soaring, and the pipeline will help it to supply its domestic needs. Currently, Russian gas is delivered to Turkey via the Blue Stream gas pipeline and the Transbalkan Corridor. In 2017, Gazprom supplied the record 29 billion cubic meters of gas to the Turkish market.
As a new hub for regional distribution, Turkey will earn new revenues for transporting Russian gas overland to the European market - though potentially at the expense of Ukraine's revenues for performing the same task.
"The projects of this kind, and this project, in particular, are not directed against anyone's interests. The projects of this kind have a purely constructive character. They are aiming to develop the relationship between the states, create sustainable conditions for economy development, for the growth of our countries' citizens' well-being," Putin said.
Allseas' Pioneering Spirit - the world's heaviest-capacity pipelay vessel - completed work on the first string of the TurkStream pipeline in late April. She then transited the Bosporus and sailed to the North Sea in order to fulfill a contract for her other role - she is the only vessel capable of lifting large offshore platforms intact - and then returned to the Black Sea in June to lay the second string. During the first string, she averaged nearly three miles of pipelay per day, and she set a maximum speed of 3.5 miles in a day during February.