After PCG Convoy Dodges Blockade, China Claims It Was Allowed to Pass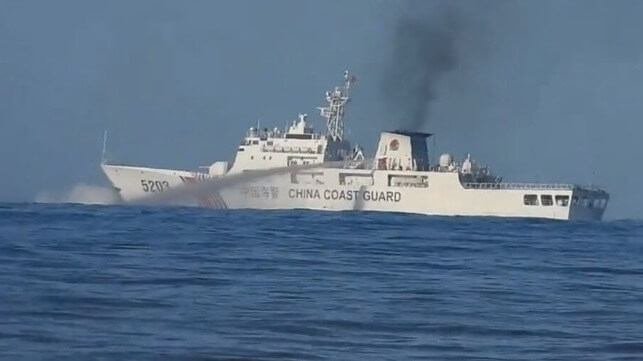 On Friday, a Philippine Coast Guard convoy made it through a Chinese blockade in the South China Sea, bypassing Chinese coast guard cutters and militia vessels in order to reach an outpost on Second Thomas Shoal. The reason, according to a China Coast Guard spokesman, is that the Chinese force made "temporary special arrangements," allowing the Philippine vessels to make their "unapproved entry" to the reef's central lagoon.
These special arrangements included close-quarters maneuvers involving up to four large Chinese vessels at a time; a Chinese cutter deploying a water cannon in close proximity to a small supply boat; and at least one interaction involving a Chinese cutter crossing the bow of a Philippine vessel.
Gan Yu, spokesman for the China Coast Guard, told the South China Morning Post that this "arrangement" allowed the Philippines to "transport food and other necessary daily supplies" to the outpost on Second Thomas Shoal. Setting aside China's gesture of goodwill, he said, the Philippines' actions still "violate China's territorial sovereignty . . . and violate its own commitments." He pledged that the China Coast Guard will continue its "rights protection" mission at the shoal, which is located within the Philippines' exclusive economic zone (EEZ).
In a statement Friday, the Philippine Coast Guard disagreed with the Chinese characterization of Friday's events. PCG Commandant Admiral Ronnie Gavan called the China Coast Guard's maneuvers "illegal and irresponsible," and said that the confrontation raised questions about whether the CCG was a legitimate, law-abiding coast guard agency.
Beijing claims sovereignty over the overwhelming majority of the South China Sea under its "nine-dash-line" policy - including the waters of its neighbors' EEZs - based on a history of Chinese presence and navigation in the region. Though the Spratly Islands are hundreds of miles from Chinese shores, Beijing asserts that it has a historic right to occupy and govern most of the archipelago. The Permanent Court of Arbitration in the Hague has dismissed this claim as inconsistent with international law, which defines the boundaries of maritime sovereignty based on physical distance from land.
In a statement, the U.S. Department of State said Friday that the United States agrees with the tribunal's findings, and that China has "no lawful territorial or maritime claim" to Second Thomas Shoal.
"The PRC's actions are inconsistent with international law and follow a pattern of dangerous operational behavior in the South China Sea," said a State Department spokesperson. "The United States reaffirms that [the] U.S.-Philippines Mutual Defense Treaty extends to armed attacks on Philippine armed forces, public vessels, or aircraft – including those of its Coast Guard – anywhere in the South China Sea."