Adidas Uses Ocean Plastic in Shoe
At the Parley Talks that took place in parallel with COP21, adidas and Parley for the Oceans showcased a 3D-printed ocean plastic shoe midsole to demonstrate how industry can re-think design and contribute to stop ocean plastic pollution.
The concept shoe consists of an upper made with ocean plastic content and a midsole which is 3D printed using recycled polyester and gill net content.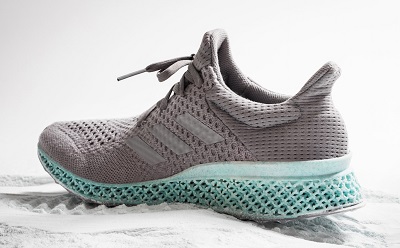 "World leaders forging an agreement is wonderful, but we shouldn't need to be told to do the right thing," said Eric Liedtke, adidas Group Executive Board member responsible for Global Brands. "The industry can't afford to wait for directions any longer. Together with the network of Parley for the Oceans we have started taking action and creating new sustainable materials and innovations for athletes. The 3D-printed Ocean Plastic shoe midsole stands for how we can set new industry standards if we start questioning the reason to be of what we create."
"2015 is our year, the year of the oceans: the ocean movement successfully brought the cause onto the COP21 agenda in Paris. Protecting life underwater became the 14th development goal of the United Nations" said Cyrill Gutsch, founder of Parley for the Oceans. "With a framework of political goodwill in place, it is the right moment to transform words into action. Therefore, Parley in Paris is all about updating knowledge, sharing visions, fine-tuning strategies, creating concepts and forging collaborations in order to kickstart change."
The gillnets were once used in poaching operations exploiting vulnerable toothfish species in the Southern Ocean. Known as the "white gold" of the deep sea, a single 1,500 ton toothfish catch can pull in $83 million for illegal fishing vessels. Parley partner Sea Shepherd retrieved over 72 km of illegal gillnet and fishing line during Operation Icefish. The nets were abandoned by the poaching vessel Thunder, which was later intentionally scuttled by its captain off the coast of West Africa following a 110-day chase by Sea Shepherd vessels the Bob Barker and Sam Simon.
It's estimated that lost and discarded gillnets, known as ghost nets, are responsible for more than 100,000 marine mammal deaths every year.
It took crew on board the Sam Simon four weeks to remove the netting from the Southern Ocean. In the process, they returned thousands of toothfish and other bycatch to the sea.
The adidas x Parley concept shoe was made in just six days in close collaboration with Sea Shepherd and supported by green chemist John Warner (WBI) and material innovator Bionic Yarn.
As founding member, adidas supports Parley for the Oceans in its education and communication efforts, as well as its comprehensive Ocean Plastic Program (A.I.R. - Avoid, Intercept, and Redesign) that intends to end plastic pollution of the oceans. Since the partnership was announced in April 2015, adidas has taken concrete immediate steps in this direction. Examples are:
The adidas Group will phase out the use of plastic bags in its own retail stores. The phase-out has started already and will be completed by the end of Q1 2016.
Together with its partner COTY, adidas will end the use of plastic microbeads across all its body care products by December 31st, 2015.
In November 2015, a group of 20 employees attended the Parley Ocean School, a unique program that blends ocean activism with experiential learning and activities in a marine environment. Employees helped retrieve plastic debris from coastal areas; furthermore, thanks to Parley Talks with the experts, employees learned about the state of the oceans and are now acting as Parley ambassadors. The company is looking at extending this initiative to more employees going forward.
"We at adidas didn't partner with Parley to take incremental small steps. We partnered with Parley to make big bold steps, to fix big global problems," said Eric Liedtke, Executive Board Member, Global Brands, adidas Group.