AD Ports Buys 10 E-Nav OSVs to Meet Demands in Middle East Energy Market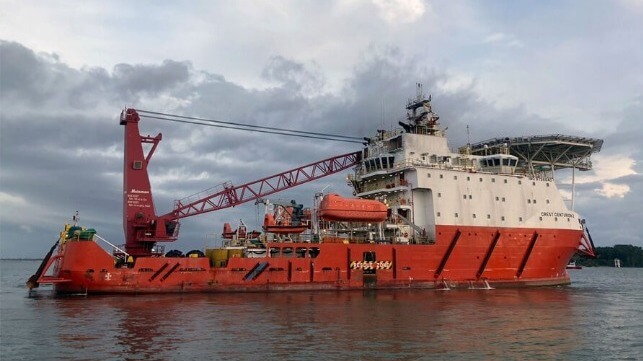 AD Ports Group, the port and offshore company set up by Abu Dhabi's sovereign wealth fund ADQ, is making a large move by acquiring 10 vessels in a deal valued at around $200 million to expand its offshore operations. The vessels, all of which will be delivered in Q4 2023 from E-Nav, the Mexico City-based owner/operator of OSVs, represent a 20 percent increase in AD Port's offshore capacity.
Announcing the acquisition, AD Ports cites the positive performance in the global offshore oil and gas market and the growth in offshore wind. They said the increase in capacity would be for the company's operations in the Middle East and Southeast Asia, noting that there is a shortage of assets particularly in the Middle East while major offshore projects are upcoming,
"I am pleased to announce this key investment, the expansion of our offshore fleet is a significant move in our strategic objective to fortify and enhance our Middle East and Southeast Asia footprint," said Captain Mohamed Juma Al Shamisi, Managing Director and Group CEO, AD Ports Group. "We recognize the increasing demand in the energy sector."
Specifics on the vessels being sold were not provided, but AD Ports notes that they have an average of nine years, significantly lower than the industry average. They said the deal includes a variety of offshore vessel types, including Multipurpose Supply Vessels (MPSVs), Platform Supply Vessels (PSVs), Diving Support Vessels (DSVs), and Accommodation Workboats (AWBs). Adding to the attractiveness of the acquisition, AD Ports reports it will take over well-established contracts with blue chip clients in the O&G industry, national oil companies, and international oil companies in Southeast Asia and the Middle East. They expect around 95 percent utilization of the existing contracts, generating more than $70 million annually in revenue in the next three to five years.
Started in 2019 in Mexico City, E-Nav says its main focus is to provide transportation services of equipment and materials to deep water offshore installations. In late 2021, they were part of the rescue package for Singapore-based Pacific Radiance, an offshore operator in financial difficulties. The rescue package called for E-Nav to acquire Pacific Radiance's entire fleet of 33 vessels including their current contracts in exchange for paying off the company's debt of around $200 million.
AD Ports says the addition of the vessels from E-Nav provides enhanced capabilities, capacity, and increased geographic footprint in the offshore segment. They expect to focus on the energy sector expanding on their existing relationships in the offshore sector.