Activists Climb UK Prime Minister's House to Protest Offshore Drilling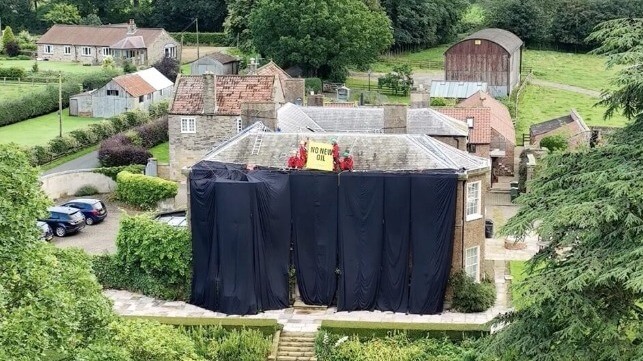 On Thursday morning, activists with Greenpeace climbed onto the roof of UK Prime Minister Rishi Sunak's house in protest of his decision to "max out" oil and gas leasing on the UK continental shelf.
The team of four protesters went to Sunak's private home in North Yorkshire and scaled the exterior, perching on the slate roof with a sign calling for "no new oil." They draped the front facade of the house in black fabric and stayed for hours before the local police came to arrest them. The activists were detained and may face charges for the episode.
Sunak lives in London at 10 Downing Street, the prime minister's residence, and was on vacation in the U.S. with his family at the time of the action.
"It really was about this image of pouring oil all over the prime minister's house," Greenpeace campaigner Ami McCarthy told the New York Times. She added that the team had encountered no security presence at Sunak's $2 million home and simply walked onto the property.
Last week, Sunak announced plans to approve more than 100 new offshore oil and gas licenses as part of a policy of "maxing out" Britain's energy reserves. He said that the license approvals would include a green light for the controversial Rosebank oil field, which has been targeted by environmental campaigners. Sunak asserted that the new oil and gas license activity would be consistent with the UK's net-zero commitments.
"My view is we should max out the opportunities that we have here in the North Sea, because that's good for our energy security," Sunak said. "It's also good for the climate because the alternative is shipping energy here from halfway around the world."