Abu Sayyaf Pirates Execute German Yachtsman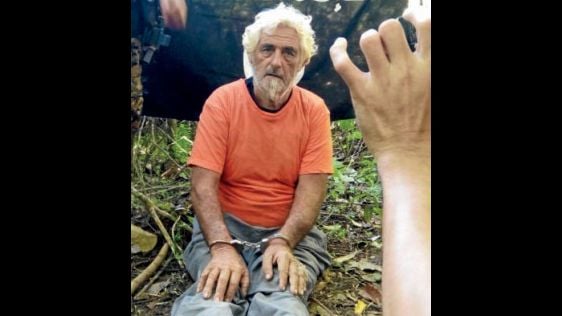 This week, the Philippines-based terrorist organization Abu Sayyaf Group (ASG) followed through on a threat to execute German yachtsman Jurgen Kantner, who was abducted from his sailboat late last year. The group beheaded Kantner and posted a video of his death online.
"We grieve as we strongly condemn the barbaric beheading of yet another kidnap victim," said Philippine presidential advisor Jesus Dureza in a statement. "We all tried our best. But to no avail."
Kantner and his partner, Sabine Merz, were attacked in November near the island of Sulu. Merz was shot and killed while attempting to fend off the pirates and Kantner was taken hostage. Earlier this month, Abu Sayyaf posted a video threatening to execute him unless the German government paid for his release by February 26.
It was the couple's second experience with kidnapping: they were captured by Somali pirates in the Gulf of Aden in 2009 and were held near Berbera for two months. Kantner later returned to the pirate stronghold to recover his yacht. Afterwards, in an interview with AFP, he said that "my boat is my life and I don't want to lose her, nothing more."
The German government condemned Kantner's killing and called for joint efforts to root out ASG. "The Federal Chancellor condemns the abominable act, which once again shows how unscrupulous and inhumane these terrorists are. We all must stand together and fight against them," spokesman Steffen Seibert said.
Abu Sayyaf has often made good on its death threats. Last year, the group beheaded three prisoners – John Ridsdel, Robert Hall, and Philippine national Patrick Almodovar – after ransom demands went unmet. It has released twelve hostages since last June, including an eight-year-old boy who was turned over to the authorities on Monday.
Analysts suggest that ransoms are usually paid to secure the prisoners' safety, and that kidnapping is a multi-million dollar business for Abu Sayyaf. Observers in the Philippines report that the group uses ransom payments to buy weapons, recruit new members and pay off local communities, which harbor and support ASG fighters. The Philippine government discourages ransom payments and does not usually comment on any transactions between victims' families and the terrorist organization.
Not fast enough
Philippine defense secretary Delfin Lorenzana recently told the AFP that the nation's maritime security forces have trouble interdicting the pirates' speedboats because the attackers are simply too fast. "The Abu Sayyaf has better boats than us," he said, suggesting that the go-fast craft could hit speeds exceeding 40 knots.
Philippine president Rodrigo Duterte has called for help in the form of joint patrols in the waters around Tawi-Tawi, Sulu and Basilan, ASG's island strongholds. His government has invited the Chinese, Japanese, Indonesian and Malaysian militaries to participate, including foreign military operations within Philippine waters.
The Armed Forces of the Philippines are also pressing a major onshore offensive against ASG on Sulu and Basilan, mirroring repeated attempts to drive the group out of the islands over the past two decades. The U.S. military maintained an advisory presence in Mindanao for 12 years, which helped to suppress ASG attacks; security analysts say that after the departure of American forces in 2014, the terrorist organization began to reconstitute itself into a serious threat.